May 24, 2011
Gu Puds Relaunch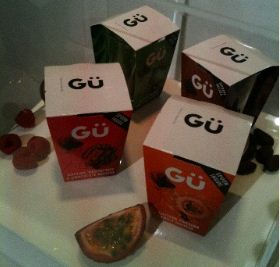 Delicious – it's got to be delicious heaven I've gone to. I'm surrounded by chocolate treats, indulgences to give in to and Gu Puds. I cannot believe it. I'm so lucky I've gotten invited to the launch of the Gu Puds relaunch of their delicious fruity puddings, chocolate puddings and new advertising campaign. Oh ya… it's that Scotsman I'm watching to see what will happen…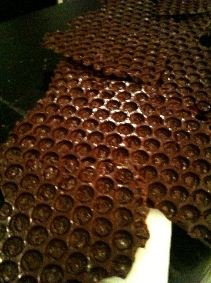 There are a range of Gu Puds which you can give in to but at the launch we could also give in to popping bubble wrap, knocking over dominoes, playing the drums, messing about with executive toys and the rest. We also had chocolate candles, chocolate Mardis Gras masks, chocolate maple leaves (go Canada!), chocolate dominoes and chocolate bubble wrap! Besides the awesome chocolate inventions were the puddings themselves.
HEAVEN. Chocolate indulgent yummy delicious heaven!! As you know from this blog, they have cookies, sea salt caramels, and chocolate ganache & raspberry puds. Why I haven't yet reviewed the brownies, other puds and the like I have no idea so I shall hop to it and get reviewing!
If you can't wait, I love all the Gu Puds delightful chocolate puddings so why not pop to your local grocery and buy one to indulge in your chocolate passion! I still wish I knew what one would have to do to get a Gu mug… those things are GORG – join the Gu Facebook page and see for yourself!