August 25, 2010
Gu Liquid Caramel Chocolates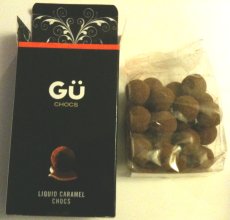 Boasting no salt at all and with the illustrious name of Gu emblazoned across the front of the box with a delicious looking chocolate, its caramel oozing from the shell, this box and it's small cargo held all the promises of a Christmas morning without the hefty price tag. I love Gu and I knew I'd love these because they were Gu. I'm a big fan of just about everything chocolate and Gu and have become somewhat predictable at parties where I'm the one who brought the Gu dessert. It may be why I'm always invited 🙂
At one third the cost of Artisan du Chocolat chocolates, these Gu caramels seemed to good to be true – especially since I had only just finished the last 2 sea salt caramels from the lovely pot I had treated myself to at The Macallan and chocolate tasting. I was in for a surprise.
The first thing that you get from these chocolates is the cocoa powder which is usually no bad thing but this was a tasteless, almost offensive powder which detracted from the experience rather than adding to it. That was a shock as I had expected the usual high quality standards to come through. The next shock was how sickly sweet and odd-tasting the interior was, especially when mixed with the chocolate shell.
The liquid caramel was a dark caramel where some of the taste of the lovely rich molasses was trying to be captured with something that tasted slightly strange. That odd, jarring flavour was, I think, the whipping cream listed on the ingredients. The chocolate was, as one would expect from a less expensive chocolate bon bon, not as high quality as some and while not detracting from the overall experience, it did not enhance the flavour either. When taken as a whole, it was an odd flavour and one I may share with work colleagues but not with fellow chocolate aficionados.
Perhaps having eaten them a mere day after the last of my Artisan du Chocolat ones it was an unfair point in time to have tried them. Perhaps that initial cocoa powder experience tainted my experience. Perhaps I simply have different taste buds to the typical Gu lover when it comes to caramel-filled chocolate. Maybe the batch I bought at Waitrose was off and I should have contacted their PR department for a sample instead. Whatever the reason, I had two and left them to share with colleagues unlike the Hotel Chocolat sea salt caramel Purist Range chocolates which I hid and kept for myself 🙂