August 23, 2010
Moroco Chocolat – The Unauthorised Review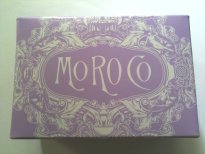 This review is illicit. That's right – it's forbidden. Just by reading it you could be part of the conspiracy. It's risky and so unless you're ready to defy "her" you'd best change to a different review now.
Why is this such a seditious blog post? Why is there a risk attached to it? How could a mere blog post pose any risk? Well, it's all a bit mysterious really. Apparently "she" who owns MoRoCo chocolates in Toronto and who has expertly decorated the interior as an upscale bordello to her own bespoke designs does not like "unsolicited reviews". Therefore by reading it you are partaking in this experience.
I have to say that MoRoCo gets packaging for a gift right. A beautiful lavender bag with almost lime green tissue makes the expensive chocolates in their extreme box a delightful package. It's a gift for yourself or someone else. The large box holding only 6 chocolates is a bit of a disappointment when you open it as you expect more but I would hope the chocolates themselves make up for it.
I chose 6 that were recommended as representative of the range by the lovely man who told me about their enticing tea and brunch. I would have loved to have had the chance to go back there for brunch or tea and if they thrive in their posh Hazelton Lanes location then I shall the next time I am in Toronto.
FULL THROTTLE – 70% Dark Bittersweet Couverture – Bold Alluring Espresso – dark chocolate dry taste somewhat harsh in the dark chocolate? May have faint chilli powder taste but not espresso for sure. There may have been a coffee bean in there that had softened over time and made it taste like a chewy fruit but it wasn't coffee flavoured.
A FRESH ONE – 62% Dark Bittersweet Couverture – Creamy Strawberry Balsamic Cream – Small lavender daisies – dark chocolate light interior strongly flavoured in fruit which jars against and does not blend well with the dark chocolate however for other palettes and perhaps after dinner it would be delightful. The balsamic doesn't blend well to help balance everything off.
Pink large cherry blossom decorated chocolate I'm not sure which one it was – dark chocolate and dark ganache lightly flavoured with a floral flavour. The flavour was delicate and lost in the dark chocolate.
MINTJITO – 66% Dark Bittersweet Couverture – Fresh Spearmint, Lime Essence Aged Rum – White bubbles of different sizes – dark chocolate and some strong fruit flavour without any hint of the spearmint – unpleasant
FLIRT – 40% Deep Milk Couverture – Tangy Raspberry Ganache – Pink Hearts – dark chocolate raspberry my favourite of the lot and probably the only one I liked. It still isn't as nice as Paul A Young but of the batch it was the one I liked. The lack of quality of chocolate used as a base lets this chocolate down.
CHAI ONE ON – 40% Deep Milk Couverture – Indian Chai Spice Tea – White paisley – milk chocolate – It was awful but this is because of the base milk chocolate which tasted too sweet and slightly artificial. I think the spices were OK and maybe in a different chocolate base they'd be nicer but as it is – yuck.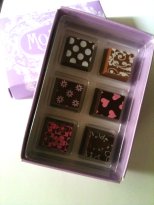 All in all the chocolates are mediocre but this, I believe, is due to the base chocolate they are using. Switching to Amadei, Valhrona or anything else would help bring these up from a mid-level chocolate to a top notch chocolate shop.
It seems to me that the poor quality of the chocolate is masked by the extremely posh packaging and the matching everything and the location in the expensive area of Toronto. Given what Stubbe Chocolates, Soma and Ambiance Chocolat are doing there are great filled chocolate-makers in Toronto so there is no excuse for using a poor quality base chocolate and making medocire chocolates.
I suppose that's why "she" doesn't like unsolicited reviews – maybe she gives journalists a different selection – maybe they get to try the hot chocolate instead or maybe she gives them chocolates made with a different base chocolate. Whatever the reason, this chocolate seems at the moment to be more form than substance.