April 28, 2011
Royal Wedding Gu Raspberry & Chocolate Mini Pots Review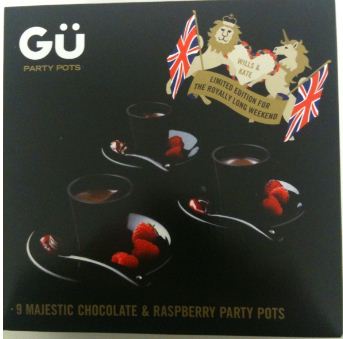 I am an unabashed Gu fan girl. I love Gu. In fact, I go all Gu-y when I talk about Gu because I love Gu so much. I think I accidentally harassed a Tesco about their cookies once. So when I had the offer to review Gu chocolate pots to celebrate the royal wedding, I jumped at the chance.
Now, I think that these are lovely really. Starting with the packaging you see the emphasis on black as a colour I think has always added something special. While I think the yogurt-style lid to the pots isn't great, you need to keep the Gu fresh and unspoiled and given how rough people can be with Gu, best to lock then in and keep them safe.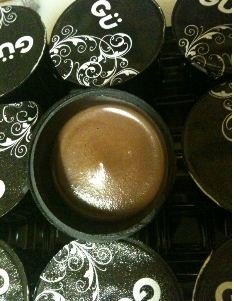 There are a full NINE pots of raspberry and chocolate Gu-dness here. Each one in a tray to keep them carefully safe for your Royal Wedding party. Your guests will be impressed by your swish individual desserts served with a tiny spoon at your garden party tomorrow.
In fact, I wouldn't be surprised if Wills and Kate didn't have some of these lovely Gu puddings as part of their dessert. I'll bet they have a box stashed up in their room just waiting to be indulged in! I love these pots and my biggest complaint (as I am sure hers isn't) is that they are too small.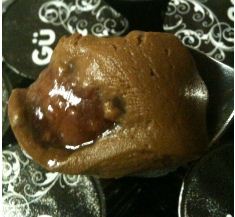 I love to savour Gu. Look at that beautiful raspberry layer with seeds and densely thick with fruit. It mixes deliciously with the chocolate layer above it to make a delicious dessert. My favourite way to eat these desserts is to take a small amount and slowly lick it off the spoon, letting the Gu chocolaty Gu-dness melt in my mouth. The chocolate is cold and so takes a while to warm up but as it does it melts into a delicious liquid which is just lovely. You can make your tiny pot last for *ages* that way.
Go, buy a pack and post below your favourite way to eat your Gu Royal Wedding Raspberry & Chocolate pot.