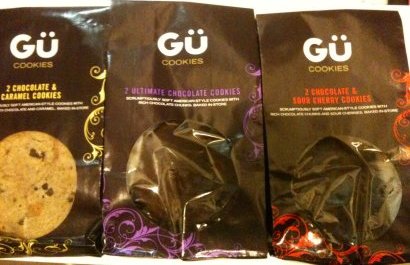 These interesting chocolate cookies were lovingly sent to me by Gu and I got them just before heading off to a chocolate tea and the Rabot Estate shop so it was an extremely chocolaty day and what better way than to finish it off with some chocolate cookies.
I love Gu – I'm a real Gu fangirl.  In fact, I tweet at Gu constantly in the desperate hope that one day they'll notice the blog, see that they would be perfect on it and send me one of everything to review.  One can only dream I suppose but it was through twitter that I first heard about these cokies.  I was intrigued and wondered how Gu would pull off yet another dessert but of the cookie kind… I had to bug the PR but it paid off and I was sent one of each of the cookie types and buy are they different.
I should point out here that they are baked fresh on the day in store at Tesco and Asda so if you buy some eat then the same day.  There are only 2 in the bag so while it may take all day to eat through the rich cookie it is worth it.
Ultimate Chocolate Cookie – I started with the biggest chocolate hit.  This was a soft chocolate cookie which was rich and dark in colour.  There were two in the bag and they were similar in size to the other bagged cookies I'd had.  I liked the rich chocolate flavour which wasn't too overpowering and the fact they were soft – both plus points.  They weren't quite what I expected from a Gu cookie but what did I expect? (maybe dough I could bake myself 😉 another product idea guys!)  I moved to the less chocolaty-seeming one next…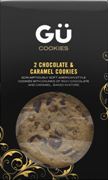 Chocolate and Caramel Cookie – This cookie was close to the cookies I remembered from my childhood.  They reminded me of giant soft Chips Ahoy cookies.  There was a slight graininess of sugar probably from the caramel mixed in and the soft cookie was nice but there were only two in the bag.  That was a problem as husband and I fought over them so I bought myself some Gu puds and let him have the second one.  Only fair that I should get some puds though I felt… I was *SHARING* after all 🙂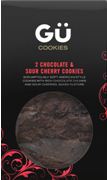 Chocolate and Sour Cherry Cookie – This was the most challenging cookie of the lot and was just what I would expect of a Gu dessert! The sour cherries were packed into my 2 cookies and the rich ultimate chocolate cookie was needed to balance off the sour cherry.  This cookie was full of chunks of chocolate and large cherry pieces and the chocolate cookie was again soft and lovely.  The flavours here did battle a little in the mouth but really… who cares?
Overall, they are a fair purchase for just £1.09 for 2 cookies.  I think 2 is too much for one person but next to bags offering 5 I'm worried people may miss these.  They really are worth a try and since they are baked fresh every day you know you're getting something special.
Subscribe
This Site Uses Cookies for Analytics
If you don't want to be analyticsalised with a cookie from Google, best pop off to another site.
Check out my Recipes, Reviews and more!
Links on this Blog
All links on this blog are editorially given. Do not contact me for link exchanges. Reviews do not guarantee links. I do not add links to articles already written unless I want to, and any requests to do so will be refused (and may result in the review being withdrawn). I reserve the right to remove links from reviews at any time for any reason including but not limited to whim. I am not your link bitch, don't try and treat me as such.
Grammar Warning: I am clearly aware that my grammar is sub par. Please excuse any typos or miss-spelling of words you may come across when reading this blog. There is no need to write or notify me. Thank You Kindly.