November 26, 2010
Divine 70 Dark Chocolate with Ginger and Orange Review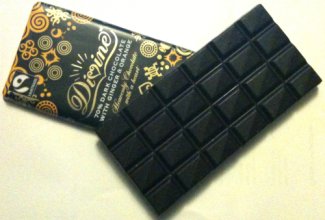 Wow.  Well, I have to admit that I really am not a ginger kind of girl.  Much as I am not a coconut girl – but I'll try anything and Dahso Chocolates in Toronto really changed my mind about ginger.  Their chocolates are really special and I absolutely loved the ginger.  Never thought I could have my mind changed that dramatically.
I was sent this bar by the lovely people at Divine then got given another so I decided to make this a freebie Friday review.  The chocolate bars I've had from Divine before have been OK – not top of the range but really not bad at all.  I like Divine as I have said before and it kept me sane when I was low carbing.
Divine made this ginger bar with orange and I really think orange here is the key.  It takes the edge off the ginger, lifts the dark chocolate and brings everything together with a bit left sticking to my teeth at the end which in no way detracts from the experience.  The flavours don't blend and the smell of the ginger comes through the wrapping so you need to store it away from other chocolates.  I think though that the individual flavours are why I can take this.  The ginger is gentle, the orange in bursts and the chocolate is smooth.  Nice overall.
Freebie Friday! Just comment on this post, comment on the Facebook post about this bar or tweet "I want to win a @DivineChocolate Ginger & Orange bar from @mostlyaboutchoc http://bit.ly/bpEdgb"  I'll draw the winner on Sunday at 2pm!