November 25, 2010
La Maison du Chocolat Christmas Selection Review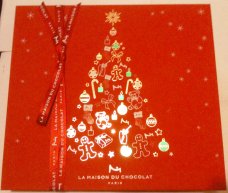 When the La Maison du Chocolat selection arrived I thought it had to be a mistake.  There was a massive box of chocolates tied up in bright red ribbon with my name on it.  Still, there was my name and WOW it really was all for me!  This, I thought, must be the ultimate chocolate gift for Christmas.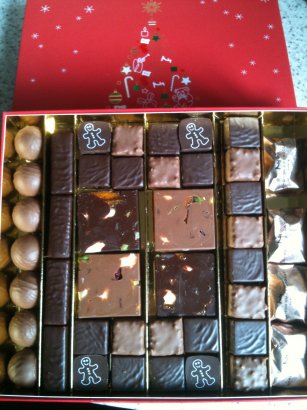 Perfectly laid out within the box was row upon row of chocolates.  Plenty for a party and far too many for just myself and so in a fit of altruism worthy of a psychology textbook mention (authors take note) I brought the box with me to work and shared the chocolate love. The unfortunate consequence of sharing is that I have created an office of chocolate snobs who now have the names and shop locations of some of the UKs most yummy chocolate shops and are starting to refuse lesser quality chocolate.
Within the box as you can see are several rows but only a single layer.  I did hold out hope that there might have been more but alas I was denied additional chocolate yummyness.  The chocolates came without informational leaflet and thus left the taster to discover the flavour of the chocolate and this was my impression: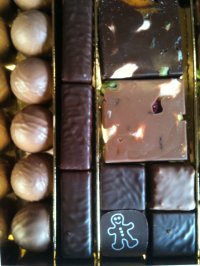 Gingerbread man – dark chocolate ganache with what seems to be alcohol of some sort though the flavour is not distinct as with the whisky truffle (blueberry actually!)
Plain squares – these unmarked squares are a delicious ganache but with no discernible additional flavour making them a delightful plain chocolate
Milk square – this milk chocolate covered chocolate has caramelised hazelnut pieces atop an almond praline base giving it a crunchy texture with a very smooth nutty praline base
Dark long thin chocolate – this pulverised candied orange stick is an interesting take on the traditional stick of candied orange peel and while slightly bitter it is delightful and was a favourite of one of the guys in the office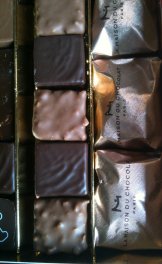 Milk Chocolate Ball – this was a delightful whisky truffle with a nice with distinct flavour in a dark chocolate ganache
Large milk or dark chocolate square – this is a fruit and nut square and while I'm not a fruit and nut fan, I tried it.  I have to admit, I liked Hotel Chocolat better maybe because the wreath was a darker shade of milk chocolate (I didn't try two squares at once – perhaps an option…). The nuts in this were crunchy though and the fruit chewy but firm and yet not too hard.  Really nice but not quite for me
Gold foil secret package – woah… I didn't know this was a sugared chestnut (marron cristal) when I first had it. I didn't know what it was really.  All I knew was that it was special, sugar and oval.  This was a bit much for me however the French intern absolutely loved them and said it was the highest quality "marron" he had been able to have.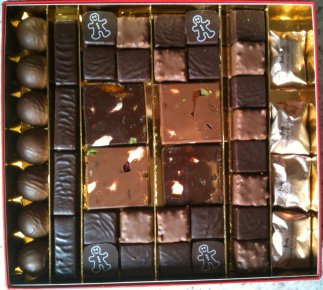 All in all, this is a luxurious box of some of the best chocolate available.  I don't know what was wrong with the first batch of La Maison du Chocolat chocolates I had but since then it has been demonstrated to me time and time again that these are some of the best quality chocolates available.
This box is not cheap but it is not small.  This is not the kind of box you'd give as a gift to an individual – perhaps a family, the office all were able to have several or even take to a dinner party.  This is a BIG box of excellent chocolate and you are getting quality and tons of it.  Need to impress on a grand scale?  This is it.