September 23, 2013
Duffy's Venezuela Ocumare Dark and Milk Chocolate Bars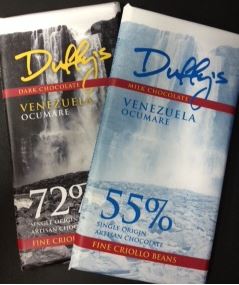 It's rare that a fine quality chocolate is turned into a milk chocolate. There are a few rare examples but generally most people want the beans to shine through with as little added influence as possible. Obviously a 10% bar would enable any one to experience the full joy of a bean with nothing added. Most of us, however, prefer a little added sugar to blunt the edge of the pure bean taste (no matter how expertly roasted).
Ocumare is a difficult bean on top of that. The bean from the Ocumare area tends to carry with it a distinct flavour of cherries and almonds and when sugar is added the flavour comes through as though marzipan has been added. Now, beans with such distinct flavouring do not have any flavours added but they can and do have flavours unique to the bean strain and area.
I think the challenge in an Ocumare milk is to continue picking up those distinctive bean flavours without making them sickly with the addition of even more sugar and milk powder. Dully has opted for a 55% milk which has 18% milk solids. There are some who would argue that anything over 45% is no longer a milk chocolate but I don't think that is a fair distinction. Clearly here we have a bar with a significant amount of added milk solids (18%) yet which is 55% cocoa solids minimum. This is quite clearly a milk chocolate bar 🙂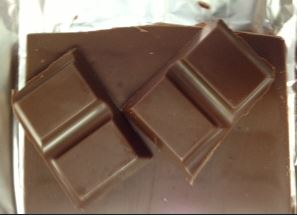 The milk chocolate has a really fine particle size and has a rick, malted milk scent. Just opening the wrapper envelops you in a cocoon of silky chocolate promise. The smooth milk chocolate square melts readily in your mouth – something I find typical of Duffy-s bars. There is nothing stopping the bar melting as it hits your tongue. The unique flavour is rich and treacly with a hint of the jam Duffy mentions in his tasting notes. I get the almonds throughout but can't quite find the banana flavour he talks about. It's like letting a fudge brownie melt in your mouth though – absolutely gloriously divine.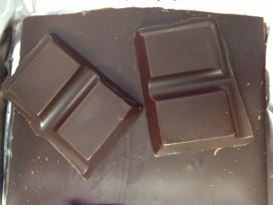 The dark chocolate at 72% is strong and the flavours are more defined. The raspberry jam is absolutely there with the almonds but you get 'just a threat of banana' (or at least, I did). The chocolate still melts quickly and cleanly and finishes long and strong on the palate. I think that while not the same as others, Duffy has done a good job here of creating a flavurful dark chocolate with just a hint of the roast.
Overall these two bars are stunning. I think the milk is my favourite but I'm on a bit of a sweet kick at the moment so that could just be me. Of course, if you'd like to get in to fine chocolate more and are afraid to make the leap from a 28% cocoa solids bar (or so) from other manufacturers to as strong a bar as a dark 70% why not try the 55%. You get to both experience the higher quality chocolate but without having to make the change to something that might be just a bit too dark for you right now.  Why not get both of these bars and once you finish the milk one, take the plunge and try the 72% one. Just remember, most dark chocolate is not bitter and Duffy is a brilliantly safe bar to try 😉