September 20, 2013
Meantime Brewery Tour & Black Vanilla Ice Cream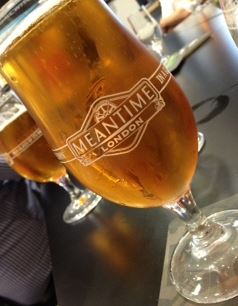 I have had a review of Meantime's chocolate beer for a while. I've not published it because I've lost the images and I was thinking of just doing a week of chocolate beers since there are at least 5 on the market. I knew about the beer and I knew a bit about beer in general, having married a man with enough brewing equipment to make me worry about whether there'd be room for me anywhere 😉 I didn't know about Meantime.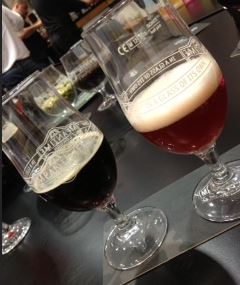 Interesting factoid – the water used in any process has a profound impact on the final product. Whether it is Scottish whisky, Polish vodka or London beer, the water that is used plays a key role. Meantime has been around for a long time and they have been a London brewery for all that time. They don't specifically trumpet it like some breweries do, but they are a London institution now.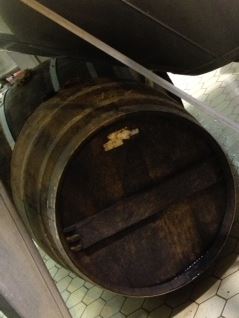 The facility is capable of producing over 17.6m pints of beer per year and quite unlike many other breweries they don't pasteurise their beer. Meantime remove microbes and bacteria by passing the beer through increasingly fine filters – the smallest one that they use has holes just 0.45 microns across – that's about 150th of the width of a human hair. The craft beer revolution started 30 years ago in the USA and is now an international movement, to our benefit.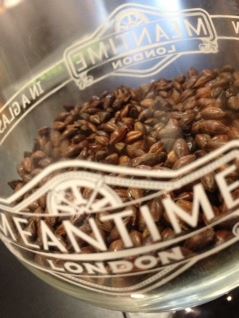 There are apparently tours all the time for a small fee. We were a special late tour of bloggers but there are lots of tours. These tours are brought to a room with lots of beer (yay) and all sit down around tables. You are all given glasses of hops and grains in various states of kiln roasting. While we only smelt the hops we tasted the grains and it is amazing how different they become after roasting – much like cocoa beans 🙂
We learned about the history of the brewery, how beer is made, saw the casks of beer beside the huge tanks of brewing beer and learned about the kind of lead times required for a good beer. We toured around the bottling facility and the packaging area. The whole brewery is quite compact but doing some great things and really interesting beers besides chocolate such as the coffee beer I got for husband. We got to try a few of the beers they had and if I had wished to I could have tried a small sample of each I'm sure.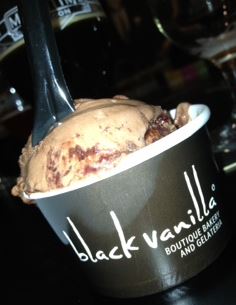 We then got to try some Black Vanilla ice cream. After tasting the beer we got to learn all about their ice cream making and how they came to choose Meantime to make beer ice cream with. They are quite unique in how they make their frozen treats as they make everything from scratch and focus on organic, locally sourced where possible and healthy. Not that they are suggesting you gorge on their frozen treats only that if you do it isn't as full of chemicals as other stuff might be.
Now, obviously we didn't tour their kitchens as well but it was a great opportunity to meet people passionate about their crafts and learn about their approach. Husband hasn't tried the coffee beer just yet but I'm sure when he does he'll let me try a tiny sip 😉