September 19, 2013
Lindt Mini Cupcakes Recipe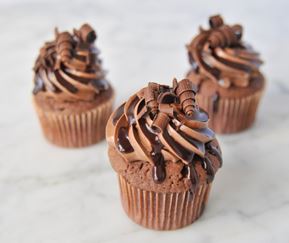 Sometimes I get sent recipes from brands along with a few items in order to get me to blog them. Frankly, anything that doesn't involve me spending £50 in ingredients and 2 – 3 days of my time in recipe development wins points with me. However, sometimes I'm sent a recipe and in order to follow it, I have to change it. This is what happened here with the amazingly lovely people from Lindt. I'd been working in the background for some time on a recipe for a Lindt Lindor cupcake but they sent me a recipe (two iterations) for the mini cupcakes in the images below. Well, mini and giant but that's for later…
I love mini cupcakes – the single bite-sized delicious treat that are as difficult to bake (if not more so) than their larger counterparts. They are tiny, fiddly and the pan is awkward but they are lovely at the end. This recipe is low in sugar. So low in sugar, in fact, that I had to add some to the frosting to make them a bit sweeter. The original recipe is at the end though if you'd like to follow the exact recipe as provided by Lindt
LINDT Chocolate Mini Cup Cakes
Makes either 24 mini + 12 regular cupcakes or probably at least 36 mini cupcakes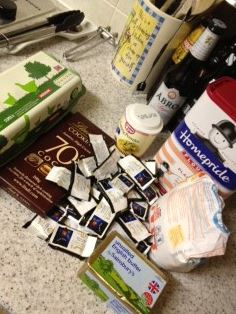 INGREDIENTS
Cupcakes
•    260g Lindt Cooking 70%
•    80g Castor sugar
•    170g Butter, unsalted
•    4 eggs
•    114g Plain flour
•    1/2 tsp Baking powder
•    Pinch of salt
Frosting
•    220g Lindt Touch of Sea Salt Dark Chocolate
•    1 1/2 Tbs Cocoa powder
•    30ml Milk (or Frangelico)
•    210g Butter, unsalted at room temperature
•    100g icing sugar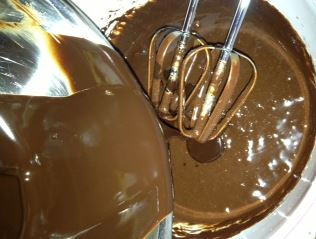 Preparation
•    Line muffin tray with paper cups.
•    Melt chocolate and butter together by placing into a bowl sitting over a saucepan of barely simmering water. Make sure the bowl doesn't touch the water as that might burn the chocolate.
•    Stir chocolate every once and a while then set aside to cool once melted.
•    In a mixing bowl, whisk the egg  and the sugar until well combined.
•    Gently mix the cooler chocolate mixture into the egg yolks and sugar mixture. If your chocolate is not cool, it will cook the eggs and the mixture will be unusable.
•    Sift in the flour and baking powder and gently fold into the chocolate mixture.
•    Place in the oven at 165 degrees and bake for approx. 12 – 15 minutes or until a skewer comes out clean.
•    Take out and place on a cooling rack.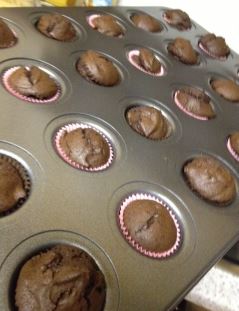 For the frosting
•    Melt the chocolate using the bain marie method described above and allow to cool. The sea salt bar will melt different from the cooking chocolate – do not be alarmed as this is totally normal
•    Place butter in the bowl of your electric mixer with a paddle attachment. Whip up until light and fluffy.
•    Mix the cocoa powder in to the butter, then add the icing sugar. Before you mix again, fold slightly into the butter if possible.
•    Add the milk before whipping to try, as much as possible, to prevent icing sugar spray 🙂
•    Add the melted chocolate carefully. If it is too hot, it will melt the icing and the consistency will change, making it difficult (if not impossible) to work with
•    Work with the frosting at room temperature.
Finishing the cupcakes
•    I used the dipping method. Simply take the cupcake and rapidly dip it in the frossting bowl, swirl and use a slight scoping motion. If you have a piping bag, even better!
•    These are best enjoyed on the same day but can keep in an airtight container.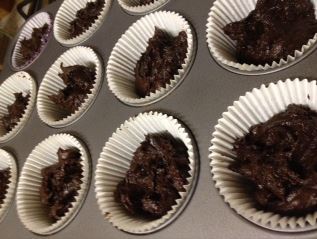 This makes some great cupcakes.  If you go with bigger ones, these take 15 – 18min to bake so remember to check them before removing as they will take longer than your mini cupcakes.
Below is the original recipe in an image. I'm not sure what happened to the sugar in the icing but if you do decide to try them with less sugar, I'd try halving the icing sugar or maybe use 75g instead of 100g. There is a lot of flexibility in these recipes. For example you'll notice I did not separate the eggs.
This is a stiff batter and it is difficult to work with due to the high amount of real chocolate used. You cannot store this batter – it must be used right away. HAPPY BAKING!