April 14, 2012
Eastercon Chocolate Tasting Session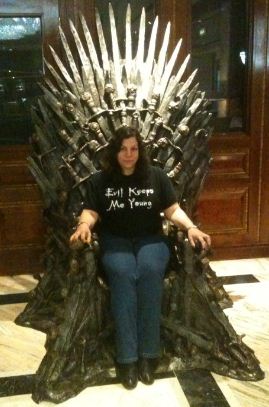 Eastercon is the UKs oldest Science Fiction & Fantasy convention. This year (2012) it was held at the Raddison Edwardian Heathrow with the writer of the Game of Thrones TV series which came from his series called "A Song of Ice and Fire" – George RR Martin. In fact, the iron throne of Westeros was in the lobby and by right of chocolate I claimed it. In fact, I was also wearing the perfect t-shirt. Evil really does keep me young… evil and chocolate. Chocolate keeps me young 😉
On Saturday evening I ran a chocolate tasting workshop with 46 people and I took them on a journey that went from Dairy Milk to Original Beans Cru Virunga. I was hoping to show everyone that dark chocolate isn't all disgusting and that there are a wide range of natural flavours all related to the bean and not flavouring.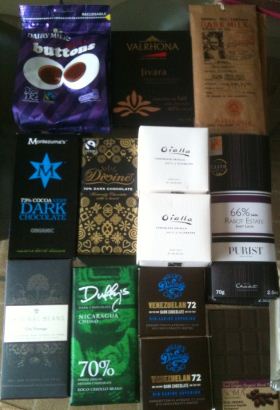 The Dairy Milk buttons are sometimes exactly what I want. Although the taste isn't complex, sometimes I just want oil and sugar. Of course this was a good starting point and I had two more milk chocolates, both with differing amounts of sugar so it helped people understand just how different a milk chocolate can taste.
The Jivara from Valrhona is available from Waitrose and I chose it as a better quality milk chocolate. The lovely young man to my right who was younger than I had expected participants to be, given the late hour and complexity of the event but he correctly identified the lower sugar amount in the Jivara as compared to the Dairy Milk. Others identified a creamier flavour, a chocolatier flavour and it was a popular choice.
For a dark shade of milk, we went with the Askinosie Pilipino 62% dark milk chocolate with fleur de sel which for me has a slightly burnt edge to the beans but which a number of people liked so much they came back at the end for more. This might be available at Selfridges but mainly off the Askinosie site.
Next I went with Divine 70% dark chocolate. As a co-op owned brand, not only is it an ethical chocolate, it is also a delicious chocolate and widely available from Tesco, Sainsbury's, Waitrose and many other shops. I've been seeing it all over the place. This dark chocolate has a less complex profile but is a good, non-bitter dark chocolate with a wide appeal.
The Montezuma was not widely well received. There were a number of people who felt it was too drying, too bitter and not as pleasant as the Divine. Divine is Ghanaian and Montezuma is Dominican Republic and so this was included for variety but also to offer up a different percentage cocoa at 73%.
The Duffy's Chuno really provoked a love-or-hate reaction in a few people. Some loved it, some really hated it. Duffy's chocolate is locally made but only available at shows or the Red Star Chocolate website (you might need to email & request it specially) and so it is a great example of a great, small artisan bean-to-bar manufacturer who is doing great stuff here in the UK. The bar's notes of chestnut likely provoked a bit of a 'marmite' reaction among folk. Some loved it, some hated it. I got dusty red berries when I tried it but one person claimed a flavour of cigarette ash. While I didn't get it, everyone's palette is different and while a favourite of mine, it wasn't a favourite of hers.
I chose the Willie's Delectible Cacao Rio Caribe Venezuelan 72% for the red berries and tobacco leaves. Now, the other person who said they could taste cigarettes I understood here and the person who said they tasted that in the Duffy's said they loved this one 🙂 So this bar to me, and others, was slightly gritty, expressed by some as being "powdery" but with lush red berries. I really like this bar and so was slightly biased in closing it but hey – it was my tasting 😉 This bar is available from Waitrose and of course online.
I then made the bold move into purple fruits with the Hotel Chocolat Purist 66% Rabot Estate bar. I knew this would taste a bit sweet after the darker bars but I was moving through flavour profiles so risked the Hotel Chocolat. I also chose this bar to demonstrate a high street chocolate shop could deliver complex flavours in a bean-to-bar sold almost mass market. I went for the figgy purple fruits (to my mind) but some did get cherries and cranberries as well as coffee. All in all, people were pleasantly surprised and seemed to enjoy it. Anyone can buy it online and it is available in the shops too.
I finished off with Original Beans Cru Virunga which, by planting a tree for each bar you buy, means this tasting session planted two trees. Everyone seemed to be quite pleased by that – not only did we taste a lot of chocolate but we planted 2 trees. Original beans was a clear favourite with its cherries, cassis and smoky tobacco. There seemed to be a pretty wide enjoyment of this and requests afterwards of where to buy it from. I know you can buy it from shows, the site and I think Whole Foods but also a few other places. Just check their website to see where.
All in all I think I tried to cram too many bars into a single session. If I have the time and cash to do another one, I might do only 5 or 6 bars and maybe split milk and dark off or maybe just do dark. I might look at volunteering to do one at Chicon with a few US bean-to-bar makers or something if I can get enough chocolate (and afford enough chocolate) to do a decent session. I won't be at Eastercon 2013 though so the next tasting session may have to wait for Eastercon 2014 which seems an awful long way away!