April 7, 2012
Alcoholic Easter Eggs from Demijohn – Chocolate Orange Liqueur Review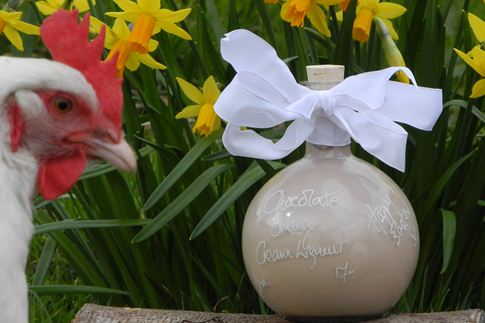 So, you're an adult and you're wondering what to give another adult this Easter… or what to give yourself.  Well, you need not fret any longer! The folks at Demijohn have created a liquid alcoholic chocolate in a egg shaped bottle. Yep, that's right – liquid deli Demijohn have created the perfect Easter gifts for grownups: Chocolate Orange Cream Liqueur.
According to the company, the liqueur is made by combining a subtle blend of dark chocolate, real Devonshire Cream, Apple Brandy and the zest of an orange.  They say that this rich, creamy liqueur will blow your mind on Easter Day. It is apparently made by a retired stockbroker in Devon and he thinks that it contains all that is wonderful about Easter – and in a drink! The serving instructions are that it is best served straight from the fridge with a little ice it can also be an indulgent sauce for ice cream or other puddings and I have to agree, having first tried it warm.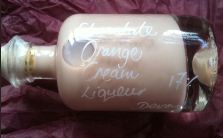 The liqueur is as you would expect of a white chocolate orange liqueur. It is not as sweet as I was fearing but it isn't something you can drink too much of at one sitting like other rich, creamy liqueurs. The flavours are distinct and pronounced but the chocolate isn't overly pronounced. I'm not really getting it as much as I thought I would but it is light in colour (a light beige) and so it isn't going to be deeply chocolaty.  The mouth feel is pleasant enough without any separation and very smooth. It retains flavour while the ice melts and I feel is something best enjoyed against a cheese or other savoury food.
I think lovers of cream liqueurs are going to enjoy this one. From the smooth mouth feel to the harmonious flavours to the cleaner finish, this is a very nice Easter tipple.  Priced at £21.60 for a 500ml round Strauss bottle it isn't inexpensive but I'd recommend giving it a try with friends (and chilled – that is the important part!)
Demijohn's Angus Ferguson said: "Easter egg hunts can be thirsty work and while the children can gorge themselves on chocolates we felt it was time to treat the adults. Our Chocolate Orange Cream Liqueur in the Easter egg shaped bottle is a sure winner – our hens certainly thought so – and what makes it even more special is the fact you can add your own personalised message to the bottle. A very grown up way to celebrate Easter!"
Demijohn's Chocolate Orange Easter egg is called A Chocolate Orange with a Difference