April 7, 2012
Raspberry Eton Mess Easter Egg Sandwich Review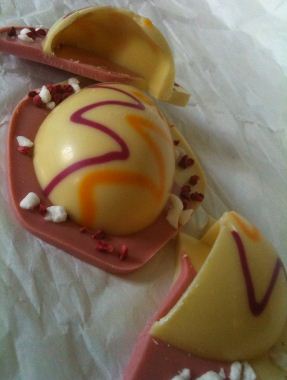 So, I've done a number of Hotel Chocolate Easter eggs this year but I haven't done one that was totally white chocolate. I know that the egg and chips was part white chocolate but not all white chocolate.  This is all white chocolate.
This raspberry Eaton Mess egg sandwich is really cute. There's quite a bit of sweet white chocolate here. 100g of flavoured white chocolate with pits of freeze dried raspberry pieces and meringue bits giving this a bit of a crunch and quite a bit of tang.
The egg is hollow though… and there is no chocolate inside this egg – it is all over it. The website over at Hotel Chocolat says "Everyone loves an egg sandwich, which is exactly why we created these little beauties. And dare we say, we might even have improved on it – with irresistible slabs of raspberry and white chocolate, sprinkled with crispy meringue and raspberry pieces, sandwiched between creamy white chocolate egg shells."
The "egg shells" are hollow and the slabs are relatively thick and so overall if you like sweet with a kick of sour and a but of texture, then this is going to be something you'll want to pick up in store today. Hurry!