June 1, 2011
Original Beans Cru Virunga Chocolate Bar Review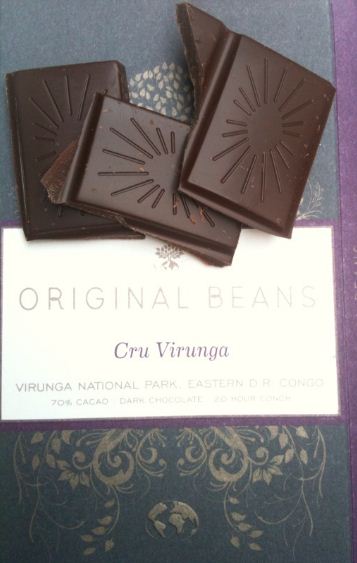 This 70% chocolate bar says it has a very short 20h conch on the wrapper. This worried me only slightly as I know some chocolate needs to be messed with less to keep more flavour. A longer conch does not mean a better flavour or a smoother chocolate – it means a more forgiving bean sometimes and others a more difficult bean.
This particular chocolate is from the Eastern D.R Congo and by buying a bar of this chocolate you are helping restoring community to protect the last Mountain Gorillas. That's enough to make anyone buy 3 or 4 bars really and surely the calories of a chocolate bar which is geared towards such a noble cause are cancelled out because you are doing something so positive for the planet. It must work that way…
So upon opening the wrapper and exposing the chocolate to the air, the first thing I do is smell it. This bar smells darker than other dark chocolate. The smoky tobacco spoken of in the tasting notes is right there pushing through your nostrils with a force and making sure you know it is there, just in case you didn't taste it.
Tasting it, this chocolate develops quickly with several distinct flavours all attempting to gain prominence in your mouth. Te subtle interplay just isn't here as swirls of tobacco jostle red fruits. In fact, I don't really get morello cherries steeped in cassis mentioned in the tasting notes come to think of it. Mind you, I do taste chocolate differently in the morning compared to the evening but not by *that* much that I'd miss cherries! I do get a hint of red fruit under the tobacco and it is a deeply distinctive flavour – just not cherries 🙂
The melt is moderately quick and it finishes cleanly with the lingering flavour of blackcurrant most strongly finishing off a piece in the mouth. No, not morello cherries steeped in cassis – just blackcurrant 😉 It doesn't feel at all waxy or oily but does feel slightly rough however this could be because I started with the extremely silky sexy smooth porcelana which was like milk chocolate in a dark chocolate bar and this is quite a different bar.
The finish stays with you for awhile and does not dissipate quickly. A delicious chocolate for anyone wanting a bold chocolate and I'll bet any brownies made from this would have people murdering other people in the line in order to get some. Ya, they would be *that* good. This is chocolate full of awesomeness that would impart its awesomeness on anything it was used for.