June 2, 2011
Original Beans Esmeraldas Milk with Fleur de Sel Chocolate Bar Review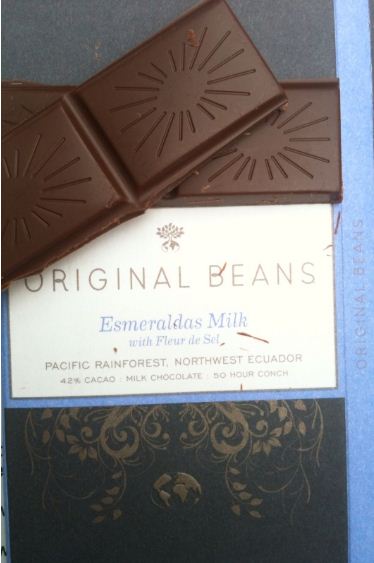 When milk chocolate comes with a percentage you know it is posh. This 42% 50h conch milk chocolate bar with fleur de sel sea salt is made with beans that come from Northwest Equador and help with the conserving the authentic arriba cacao. I know a lot of chocolate snobs turn their noses up at milk chocolate and I just don't understand why. Sure there is added milk. Sure there is less cocoa solids. Sure there is even more sugar but a milk chocolate can be made well and when it is, it is delicious.
When tasting this range of chocolate from Original Beans, I found it difficult to taste what they were describing but with this bar I definitely get the salted caramel flavour and the honey and spice. While I couldn't quite taste the red fruit as I know the bean well, I expect it is in there somewhere. The rich milk chocolate is best suited to enhancing those caramel notes and honey flavours. These, of course, naturally come to the fore while the more fruity flavours are somewhat overwhelmed by them.
This is a delicious milk chocolate that is not too sweet and has a delightful flavour. It is the ideal high quality milk chocolate for someone wanting to buy excellent chocolate and make sure a tree gets planted as well. Yep, that's right, they always plant a tree for a bar.
The milk chocolate is not at all oily and tastes sea salt caramel-y as well as having those honey notes. That spiciness is a hint – more at the end – but the whole chocolate is a delight. I just cannot express how yummy this milk chocolate is. Imagine a delicious dark bar which has just been enhanced by the addition of milk chocolate and you might come close to getting a sense of how deliciously lush this bar is.