May 31, 2011
Original Beans Beni Wild Harvest Chocolate Bar Review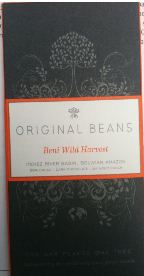 I was really looking forward to trying this bar after my experience with the Alto Beni bar from Soma. I think at time Soma inject pop culture references and Alto Beni is another one of those but Original Beans I suppose are a bit more serious with their environmental message that this bar is safeguarding the world's only cacao forest island and whatnot so no jokes – just serious chocolate. This bar is a much lower 66% and not any higher which made me wonder about the treatment of the chocolate. The conch was also only 24 hours suggesting a particularly temperamental bean. The beans have been harvested from the Bolivian Amazon. Carefully I suppose… and on an island… in the Amazon… >_< Wait... this is a serious bar. We much be serious and not giggle. Must... not... giggle... think serious thoughts about eco conservation in the Amazon and the rivers and indigenous peoples and... chocolate islands.... *sighs* I just can't be serious about chocolate islands.
ANYWAY… to the chocolate! When you open the eco-friendly package which includes a number you are able to enter into the Original Beans website to check out their replanting efforts, and open the tightly sealed silver foil, you are greeted with a lovely chocolaty scent. Just plain and straight up chocolate scent – nothing fancy.
Tastes slightly earthy-spicy to me. I don't get the sun-dried cranberries, melon or tropical fruit but I do get a bit of jasmine tea as suggested on the back cover. It melts very quickly and has a bit of a rougher mouth feel to it but the finish is extremely smooth.
It seems to be a well-tempered bar and has a delicious chocolate finish but with little acidity and I can't really get my favourite red fruit. I do get very deep chocolate and I do get very slight hints of earthiness but not too much which makes it extremely pleasant. There is a lingering taste of the chocolate in your mouth which is a lively lasting memory of the chocolate