April 16, 2012
William Curley Nostalgia Range Jaffa Cake & Millionaire Shortbread Review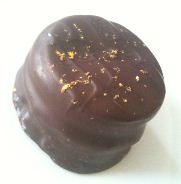 I was lucky enough to be in London at the weekend and had time to go shopping. I stopped by William Curley and had a hot choc and a lovely dessert however I was gifted with some of these wonderful nostalgia treats to review.  They are unique and using Amadei chocolate along with hand-made elements means that these are some of the stars of the William Curley range.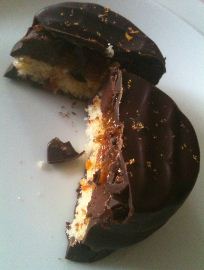 Nostalgia Jaffa Cake – the website says "Our version of a Jaffa Cake. Genoise sponge topped with homemade seville orange marmalade and chocolate ganache, coated in Toscano 70% dark chocolate." I have to say I'm not a huge Jaffa cake fan but holy cow was this awesome! I had promised most to husband but I found myself regretting the decision. I wanted to eat all of this delightful combination of sharply tart hand-made orange marmalade, sweet ganache and delightful sponge. The interplay of flavours was like nothing I had expected. The sharp orange came first really before the sweet ganache snuck in there. The sponge didn't really change the flavours but helped cleanse the palette I feel after each mouthful (if which I'd say there are around four).
This take on the Jaffa Cake was like nothing I had expected and I sadly gave half of it to husband but I did have another treat up my sleeve…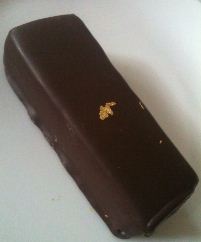 Millionaire Shortbread – The William Curley website simply says "Traditional all-butter shortbread topped with sea salt caramel and coated in Toscano 66% dark chocolate" I feel like this is a missed opportunity to say something like "deeply buttery shortbread which remains stable before melting in your mouth, set off against a delightful thick and almost chewy salted caramel, making it less sweet, slathered thickly with a Toscano 66% Amadei chocolate". Readers will know I am consistently disappointed with Amadei but likely I just get a bad bar or batch each time. The chocolate here is just a supporting act against this most amazing shortbread and delicious caramel.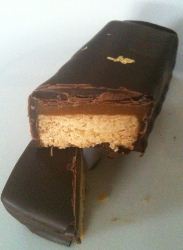 Regular readers know my favourite caramel is the Paul A Young caramel with its sharply acidic chocolate shell and rich, delicious and deep salted caramel. The caramel here is chewier but a close contender for my favourite caramel.
Overall, these two chocolate delights were phenomenal. They cost £3.50 each but as I hope you can see they are sizable and they are extremely well made with high quality ingredients.