April 17, 2012
Lauden Chocolates Selection Box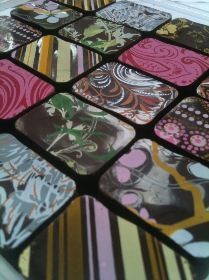 I've been in love with Lauden chocolates for awhile. I love the clear perspex boxes, I love the shape of the chocolate, I love the transfer and I love the flavours. As you may know, I've actually reviewed the two winners of the Academy of Chocolate awards, an award judged by people who specialise in chocolate and so know good chocolate when they taste it.
You can imagine my joy when I received in the post a whole box of 20 of these chocolates. I feel like I could live on these at times but the flavours are delicious and distinct. Lauden use no artificial flavourings (or preservatives) and they don't use thickening agents meaning the lovely thick lemon, raspberry, sour cherry and other flavours are thick and lovely because of the skill Sun Trigg has in making these reductions. I have to admit, I think that at around £14.30 for a box of 20, these are really reasonably priced chocolates.
I know Sun is a perfectionist. In fact, her quest for the perfect brownie has been an obsessive one and one which does not include flour at times as the one I tried had no flour. These chocolates do demonstrate the quest for perfection both Sun and her husband Stephen are on and the many awards they have won demonstrate just how successful that quest has been.  The selection box included most flavours and was an exciting discovery of flavours.
I have already reviewed the sea salt caramel and single origin gold award winners and so I gobbled the sea salt caramel which is LUSH and focused on the other flavours.

Lychee & Rose – with bits of lychee still in the reduction, this is an amazing clocolate. The rose is delicate and not at all overpowering so there isn't that sense of eating perfume I have experienced with some chocolates. The lychee flavour is distinct but not overpowering and the chocolate is delightful.

Marc de Champagne – I couldn't stop myself reaching for this. Lightly flavoured chocolate ganache with marc de champagne means it is distinctly flavoured with that distinctive alcohol flavour without being overpowering.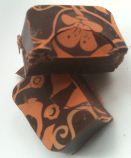 Mediterranean Orange – this has that initial distinct flavour of the essential oil of the orange as though you had just pealed an orange and taken a piece of chocolate. Fresh and distinctive and yet fleeting, this orange chocolate is delicately flavoured and yet distinctly delicious.

Raspberry & Rose – this starts sharply sour just as I like it with a hint of rose with the raspberry and wow – just an explosion of flavours in your mouth with raspberry seeds still in there you know these flavours are real with expensive rose essential oil combining with sharp raspberry to create a single flavour. Delicious!

Sour Cherry – gosh I just love this fruit reduction! Sharp sour cherry just makes my mouth water as the chocolate and pieces of cherry combine together to make you pucker and yet are delicious with a fairly clean finish.
Lemon – a delightful lemon which is sweet and citrusy and fresh and yet not as acidic or sour as you might have expected. It is really a lot sweeter than I would have expected and yet still retains that distinctly citrus flavour which lingers.

Fresh Mint – I love the taste of fresh mint and this for me is like the ultimate After Eight. The ganache is smooth and flavoured with a lovely mint flavour with just the right amount to make it perfectly minty. Just the ultimate after dinner mind and I'd buy a box as a hostess gift (if I ever went anywhere 😉 )

Passion Fruit – I saved the best for last. This is fruity, sour, flavourful and absolutely distinctly delightful. I don't know how she does it but from start to finish this is just the most amazing chocolate and the most amazing fruit filling. Delicious, distinct and delightful this is an absolutely delicious chocolate and Sun and her team should be proud of the flavours.
All in all this selection box is filled to the brim with absolutely delicious chocolates. I love the box itself with its clear top and sides so you can clearly see the chocolates and their decorations making it a work of art as well as delicious chocolates. No matter whether you buy a single flavour or a mixed selection, you won't go wrong with Lauden.