Tag Archives:
zotter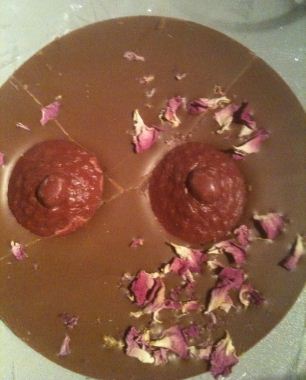 What is it about boys and boobies? There's a giggle, a blush and some guys suddenly get a far-off look in their eyes at the mention of boobs.  Add in flower petals and the innuendo makes some guys heads explode ...
There are certain flavours that I associate with the holidays. The smell of a pine tree in the living room, the smell of a fire. Apple pie, pumpkin pie, eggnog and more all bring me back to Christmas day with ...
Comments Off

on Zotter Christmas Crackling Bar Review
I had the great fortune of finally meeting the folks behind the UK Zotter personality I had been communicating with on Twiter.  Zotter is a crazy fun company with wacky ways of approaching chocolate.  They have hand scooped bars, crazy ...
Fear.  It was fear that I felt when I got the box.  I saw the distinctive yellow label on the white box.  The artwork hinting at the unknown inside.  It was a white box.  An innocent white box... and yet ...
How can I resist trying another Mitzi Blue?  Once again the flavour is a bit of a shock and once again I stick with it to work through that extreme vanilla.  It's just what you're used to and I just ...
Comments Off

on Zotter Mitzi Blue Goldbrittle
Somehow "Tigernut and Tangerine" sounds less sexy than "Erdmandeln mit Mandarinen" but the painting on the front of the bar is fantastic.  There is a certain mystique to Zotter bard and this was one of the thick ones that had ...
Comments Off

on Zotter Tigernut and Tangerine
I love the name of this bar.  Wait – do I call it a bar?  I mean, it is a circle, not a rectangle and it is well funky.  I mean, I love the circle, I love the triangles and ...
Comments Off

on Zotter Mitzi Blue Nutmix
AT LAST! I finally got a bar of Zotter chocolate from the lovely Dom at Chocablog and he gave me this lush Zotter strong coffee chocolate bar. He knew I wasn't at all keen on bacon and so ...