December 19, 2011
Zotter Mitzi Blue Paparazzi the Bar With Boobs (A Review)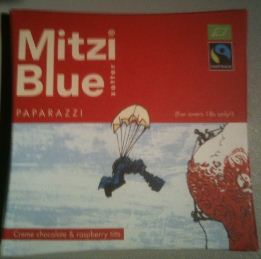 What is it about boys and boobies? There's a giggle, a blush and some guys suddenly get a far-off look in their eyes at the mention of boobs.  Add in flower petals and the innuendo makes some guys heads explode (the one with the brain).
So here we have Zotter Paparazzi – a chocolate bar with raspberry nipples which have been stuck on and are somewhat disconcertingly realistic. They stick out from the bar, fully erect, to confront you the moment you open the box.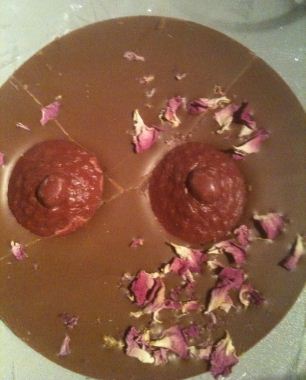 Yes – Chocolate raspberry nipples decorating smooth milk chocolate decorated with rose petals and NSFW (not safe for work).  This is a bar that is unashamedly naughty and seeks to push the boundaries of bars.   Have to admit it was hard not to laugh as I tried to review this but I did my best.
I like the nipples best. The milk chocolate is a bit sweet & when eaten with a bit of rose petal the floral flavour is too much for me. The nipples I could eat all day. In fact I ate both nipples, nibbling them gently off the chocolate base.
I think this is more about the novelty than about the chocolate but even so you're still getting a higher quality chocolate than you usually would in novelty chocolate.
This is both a bit of fun & quality chocolate! Find Zotter online at http://www.zotterchocolate.co.uk/