December 20, 2011
Galaxy Gift Chocolate & A Gift For You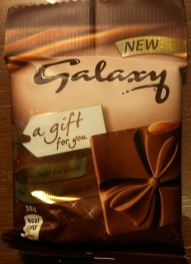 The holidays bring us some awesome chocolate and gifts and Galaxy has brought us some chocolate you should have popped around your house if you are a Galaxy fan.
I've noticed that people who like store chocolate tend to separate themselves into two camps – Cadbury and Galaxy.  It has to do with the perceived richer and creamier flavour of Galaxy and the chocolate absolutely tastes better.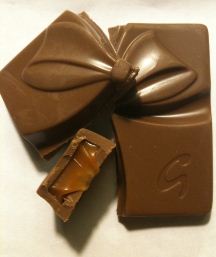 Within this separation there are those who prefer Galaxy Caramel but Cadbury fruit & nut.  Well, I don't know what you who are reading this think but here we actually have two options.  Let's say you are a Galaxy caramel fan but prefer Cadbury dairy milk and yet your partner is a Galaxy chocolate fan. No trouble here!
This lovely gift is a good sized piece of chocolate which is divided by the ribbon around the box into four pieces.  Half the bar is caramel filled and half is plain.  See what they did there? You could share the bar and someone gets all plain and someone gets all caramel or you could each get one part caramel, one part plain.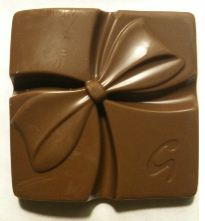 Whatever you decide to do, do it with a friend and to help you do so, I have two more of these beauties to give away! Just Tweet "RT @mostlyaboutchoc We're giving you the gift of CHOCOLATE from Galaxy! http://bit.ly/tNSKz0 " or leave a comment here wishing us happy holidays (well, I hope you do) and you'll get entered! It'll be a random draw on Dec 23rd (10am UK time), UK addresses only, I'll mail them the same day so if you don't respond to my tweet within an hour I'll pick a new winner.
ENJOY!