December 18, 2011
Christmas Table Decorations & Fun Kids Chocs from Hotel Chocolat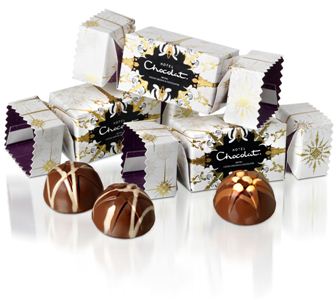 Christmas crackers, as a Canadian, have often been a part of my holiday celebrations. I wasn't aware that Americans were lacking until recently. My heart goes out to you, Americans, who have had to endure years without paper hats, bad jokes and tiny, questionable gifts. They are as much a part of Christmas as turkey, cranberry sauce and overeating.
Hotel Chocolat have released one of the best chocolate treats ever – Christmas crackers that are actually table place cards. These little crackers, flat packed for safety with chocolates include, have a little area you can write your guests names on and place at their seat. Imagine their delight at both a chocolate table favour *and* a cracker. Plus for those crowded Christmas tables you can be sure you get the cracker and all the places and cutlery on there without things falling off.
There's nothing like a colourfully decorated Christmas or New Years Day dinner table and these crackers are the ideal decoration. Plain white, full of chocolate, delicately accented with gold, these will go with any table.  Now, there is no snapper in these so they aren't going to go bang and there is no bad joke or hat and you're getting a random chocolate so you don't know what you are getting but swapping is part of the fun! There are 10, not 12 like I'm used to but you know, we always had ones left over as we were usually 10 so this would be perfect.
Now, having laid the table out perfectly and prepared perfectly and placed the cracker place cards on the parents plates, the kid need something special.  Why not get them one of these Santa's Houses and pass out the treats?  They are individually wrapped, perfectly poured shapes and as there are 15 of them, there will be enough to give each child at least one and as there are a limited number of characters and they are all one type of chocolate, there is unlikely to be fights.
Even number of kids?  Well, that's easy. Eat the extra ones yourself! That'll stop any arguments. No kids coming over? Oh drat and you bought one of these houses… of shame… you'll just have to eat them all yourself or share with guests.  I just love these though – they are super cute and super fun and the delicious milk chocolate that everyone loves.  While this isn't haute couture chocolate, it is the best of the high street (non-boutique) chocolate and you'll never go wrong as long as you don't just stick with praline and mix it up a bit like with the oysters and pearls.