February 8, 2011
Hotel Chocolat Oysters & Champagne Chocolates
When I first saw these, I was struck by how perfect they were for Valentines day.  They are a chocolate version of the aphrodisiac oyster and the romance of the pearl.  You can buy Champagne and Oysters in chocolate form from Hotel Chocolat.  Here instead of slimy oyster and inedible pearl we have a lovely praline oyster and a champagne pearl (well, 6 oyster shells and 6 champagne pearls).  It is just so romantic…
Opening the box, you can smell the champagne truffles.  I'm much more used to smelling the overwhelming praline when opening a box that includes praline but in this case the champagne truffles announced themselves first.  The smell rose up and greeted me promising more…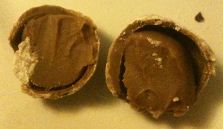 The champagne truffle got indulged first.  The interior is a wet milk chocolate ganache so quite sweet but also wet so it isn't solid.  The shell is thick enough to keep structure but not so thick that you can't just break it with a light bite.  I like the champagne truffle from Hotel Chocolat because of the strong flavour.

The praline oyster is really interesting.  It is milk chocolate but a dark chocolate top to make it look like a real oyster but in brown.  The inside is a nice praline which I don't find too overpowering.  I actually enjoy this praline and while I might not choose it often, I'm happy to eat it on occasion. The chocolate is just thick enough and the chocolate strong enough that I liked this praline – a rare occurance for me!
I loved this box as a brilliant Valentine's product.  It is actually really nice and quite delicious and as a gift it is just so unique and different.  I got 2 boxes from Hotel Chocolat and I just can't keep this to myself though as I love them so much so I'm giving a box away!  I'm going to pray that the post works and I will draw one lucky winner of these late Wednesday Feb 8th so you'll have it before Valentine's day.
That's right – WIN A FREE BOX of these lovely chocolates worth £12!  Just leave a comment saying who you'd love to give a box of these to and/or tweet "The @mostlyaboutchoc blog has the sweetest giveaway from @HotelChocolat at http://bit.ly/f2wZs7  " BY 8PM and I'll put all the tweets and comments into a spreadsheet and use random.org to pick me a winner!
sereeh HAS WON!!