September 12, 2011
Zotter Hot Chocolates – Milk Cocoa, Bourbon Vanilla & Nut
I had the great fortune of finally meeting the folks behind the UK Zotter personality I had been communicating with on Twiter.  Zotter is a crazy fun company with wacky ways of approaching chocolate.  They have hand scooped bars, crazy flavours and fun artwork.
One of their offerings is the hot chocolate.  They have several different flavours and I walked away with five.  Five is an odd number when you think about it and they do have six in a box but I was special and they gave me one of each flavour they had and I've tried three.  Now, before you get upset, consider that I have had 3 already, among others, and think about how much I have sacrificed for my blog.  I have had enough chocolate and hot chocolate to make most people sick and yet I continue to selflessly eat and blog 😀
So I chose three different flavours.  Well, when I say I chose I suppose I should say rather that fate and artwork chose for me.  First I thought the puppies were cute.  Then I randomly grabbed one and then I thought the squirrel was cute.  So there you have my keen educated palette up against puppies, a squirrel and the fickle hand of fate.  But come on!  Who can resist puppies?!?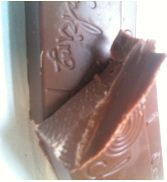 So… to the puppies! Errrr… hot chocolate.  OK so the puppies flavour was milk and of course, because puppies are cute that was the first one I tried.  The puppies flavour was interesting.  You use around 200mL of very hot milk and whisk.  I just don't think stirring a lot is going to cut it here.  The puppies bring us a flavour that is sweet and chocolaty but a lot lighter than I usually make my own hot chocolate.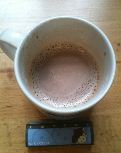 I cut the chocolate up so it would melt more readily and it seemed to be fine. The melt was very fast, the hot chocolate was delicious and it was super easy to make.  Not like drinking a bar of chocolate but like a sweet, milky hot chocolate.  I'd probably use more milk and 2 bars 🙂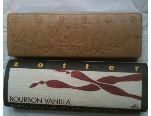 Next I had the Bourbon Vanilla.  This is a white chocolate hot chocolate with an awful lot of what looks like little vanilla seeds in the chocolate.  When I made this hot chocolate there was a darkening of the colour of the milk and there was an absolutely distinct flavour of vanilla.  There's no escaping my dislike of extreme vanilla and white chocolate here but it is going to be perfect for those who enjoy vanilla and/or white chocolate.  This is going to be someone's idea of heaven.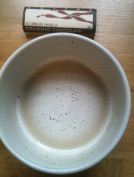 Lastly I tried the squirrel nut hot chocolate.  I think of the three this is the most like a chocolate.  I was a bit sad, however, that of the three this one was exactly like a praline chocolate and readers of this blog will know that I'm not the world's biggest fan of pralines.  It is, however, just like drinking a liquid praline chocolate and I know that a lot of people love pralines.  You can curl up with a hot mug of pralines and drink a warm cup of yummy cuddles on a cold day.  What more can you ask for in a mug of hot chocolate (if you're a praline lover)?

So all in all the hot chocolates I tried were yummy and will appeal directly to people who like that particular type of chocolate – milk, white or praline. They are brilliantly suited to the chocolate on the wrapper 🙂