September 12, 2011
Matcha Chocolat Seasonal Truffle Selection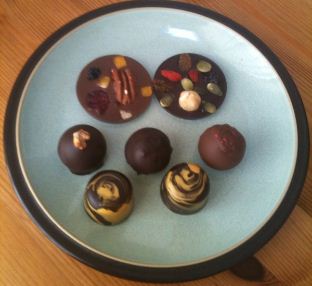 I have the great luck of living close to Matcha Chocolat's facility in Wallingford and so I can do there for fresh chocolates any time.  I could get soooo fat on popping over to the facility and buying fresh chocolates every week under the guise of buying groceries at the local Waitrose!  Still I resist and I look forward very much to the next rotation of tea chocolates as they are absolutely delicious and have no peer.
On my most recent foray to Matcha Chocolat I was lucky enough to try some of Katie's newest creations.  They were all delicious and the variety was new and different and quite unique.  It was delightful to be able to try these with their creator, freshly made and delightful!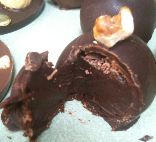 Rosemary, Raisin & Walnut – this is just the perfect amount of rosemary with only a few raisins and a lovely walnut on top.  This is just the right balance of flavours and it is unsurprising that it won 2 gold start at the Great Taste Awards.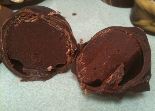 Chestnut & Whisky – I think that this chocolate was delightful and unique.  It is difficult to describe the flavour as it isn't a strong alcoholic flavour and it wasn't chestnut-y it was delightfully well balanced and delicious.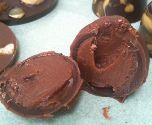 Rum, Orange & Honey – this was the best of the filled chocolates in my opinion.  The balance of the orange and honey was delicious and subtle and the rum is just barely there but the sweetness of the milk chocolate brought the flavours out.

Vanilla Caramel – What an awesome chocolate!  It was like eating a liquid Kraft caramel from my childhood. It took me straight back and was a delicious, thick, creamy caramel.  What a lovely chocolate.
Milk chocolate mendiant – I love the combination of the pecan and milk chocolate and the fruit here is a wonderful counterbalance to the nut.  I like cranberries and the prange peel and blueberry round out the disks flavours.
Dark chocolate mendicant – This was quite different and yet the flavours are quite complimentary.  Of course I can eat *lots* of these because of the pumpkin seeds and goji berries making this healthy.  The hazelnut and raisins are a delightful addition to the flavours and it was quite delicious.  The chocolate itself is quite complex and fruity with a distinctive flavour complimentingthe added fruit and nuts.
I really enjoyed these chocolates and can't wait for more.
If you'd like to buy your own, visit Matcha Chocolat online.