December 15, 2011
Zotter Christmas Crackling Bar Review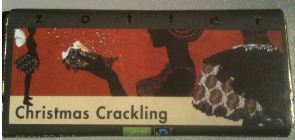 There are certain flavours that I associate with the holidays. The smell of a pine tree in the living room, the smell of a fire. Apple pie, pumpkin pie, eggnog and more all bring me back to Christmas day with my family.  This comes from experience rather than media and has nothing to do with popular depictions of Christmas and everything to do with my family.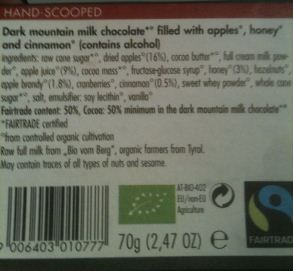 Zotter is a chocolate company known for doing things a bit differently.  They have crazy names and crazy flavours and yet are delicious.  I think Zotter are probably best known for their bacon-flavoured bars.  Thankfully I've never reviewed any but the coffee one I had I really enjoyed.  So I trusted Zotter's "Christmas Crackling" bar, even though "crackling" reminds me more of pork than chocolate and apples.  I have to admit, knowing of the bacon bar, I was worried…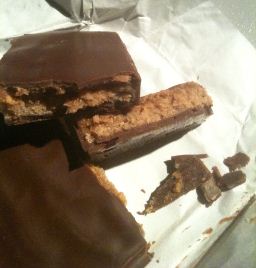 The strong flavour of dried apples alongside cinnamon accented with honey absolutely describes this bar. The dried apple filling has 2 layers it seems with 2 colours of filling. The delight of apple pie or the kitchen at Christmas absolutely fills your nostrils as you take a bit of the bar. This isn't just fruit leather covered in chocolate – the hint of cinnamon enhances the chocolate and the darker milk chocolate compliments it perfectly. It says that this bar has dark mountain chocolate of a nice 50%  milk chocolate and that one of the layers I found was yellow chocolate.
Despite my initial misgivings I love this bar!