December 16, 2011
Moser Roth Mousse au Chocolat Orange 85% Cocoa Chocolate Bars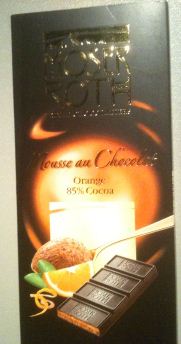 I'm a bit of a Moser Roth fan. I know it isn't posh chocolate but I like the interplay of dark and light chocolate. It is really tasty and they have really done a good job with it.  It isn't Soma but it is lovely. We can't eat Soma every day, no matter how much we'd like to! The first time I tried Moser Roth I was sceptical but this bar has proven once again my fandom has not been misplaced.
I do get some emails asking where people can buy Moser Roth.  Moser Rith is an Aldo product. I know – I know – you wouldn't expect a great chocolate to come from Aldi but I have to say that beyond chocolate, Aldo has some awesome products. From award-winning mince pies and highly placed sparkling wine to delicious turkey breasts and bacon wrapped mini sausages, Aldi has a delightful Christmas mix and this is one of the newest additions to their collections.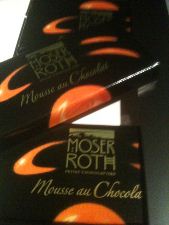 This is a bar of dark chocolate encasing a lighter chocolate mousse with orange but it doesn't make it clear how the orange is added.  As you open the box you actually get 5 bars rather than one giant one which is just fantastic. There is still no clue how the orange flavour is added – whether it is from being added to the mousse or something else.  You have to open one and discover for yourself…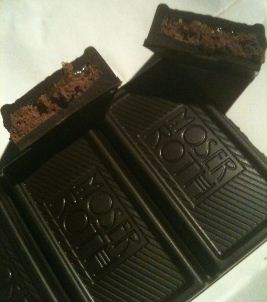 Surprisingly despite this being a less expensive dark chocolate which usually means bitter, over-roasted beans, it is delicious. The tang of the orange & sweet mousse filling like a mini aero are the perfect counterbalance to the dark, almost bitter dark chocolate.  The sweet yet tangy orange jelly is set into the top of the mousse which is then encased in dark chocolate.
Sharp, tangy, sweet and yet dark it is a good thing this has 5 bars as otherwise there would be a lot of arguments over this one!