December 10, 2014
Boozy Cocktail Recipes for a Cocktacular Christmas
Yes – that's a giggle-worthy title but this has nothing to do with roosters… or men (thought I think it would have been a bit better that way 😉 ) Cocktails are amazingly fun and you actually don't have to get poncy fancy cocktail shakers (though I do lust over them ones I saw at Roast) you just need to create them well. I was given a stack or recipes from World Duty Free and wanted to share the easier ones I thought you might have a fighting chance of having stuff on hand from your own visits to World Duty Free to make.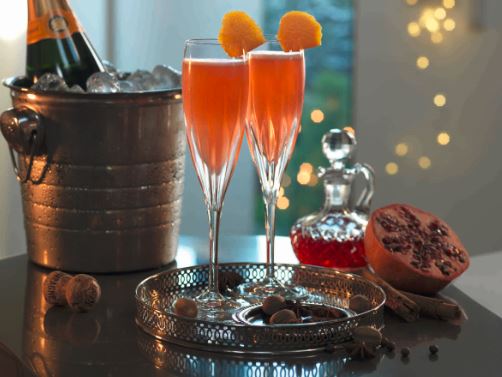 Mulled Champagne
A seasonal champagne cocktail, akin to a Kir Royale with notes of spiced cranberry and pomegranate. This is a make-in-a-glass cocktail which are my favourites however feel free to use a Cava just don't use Prosecco or it'll be too sweet.
Ingredients:
*300ml cranberry juice
*200ml pomegranate juice
*300ml caster sugar
*50gm mixed spice powder
(I'd say you might be able to get away with a store-bought syrup in place of the above starred bits if you're desperate. I bought some from Fortnum's)
150ml Veuve Clicquot (or other champagne 😉 )
Garnish:
Orange zest
2 tsp pomegranate seeds
For the spiced syrup:
In a pan gently heat the cranberry and pomegranate juices. Stir in caster sugar and Chinese five spice powder. Do not allow to boil. Continue to stir until the sugar dissolves. Fine strain the syrup to remove the solids and allow to cool. Or, you know, buy some 😉
Preparation method:
Pour a glass 2/3 full of champagne. Add 20ml of the cooled spiced syrup (or your store-bought stuff) and stir. Garnish with an orange zest and pomegranate seeds.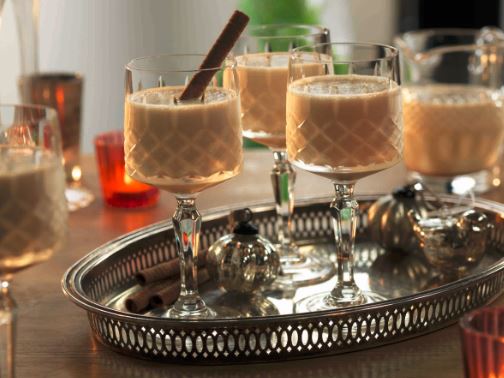 Baileys' Nog
A twist on the seasonal favourite that is quick and simple to make. The perfect sharing drink for festive celebrations that is sure to be a crowd pleaser! This needs a blender or a lot of patience and no kids.
Ingredients:
300ml full fat milk because, you know, FAT!
300ml Baileys Irish Cream
4 egg yolks
150ml Maple Syrup (the real, unadulterated stuff)
1 tsp cinnamon powder
1 tsp allspice powder
Garnish:
Freshly grated nutmeg
Chocolate swizzlestick which you can buy but don't make unless again you have a lot of time and no kids 😉
Preparation method:
In a blender combine the milk and a few scoops of ice and blend until smooth. In a separate bowl mix the egg yolks, cinnamon, allspice and maple syrup. Combine all ingredients in the blender and blend again. Pour into a glass and dust with grated nutmeg. Garnish with a chocolate swizzlestick and serve.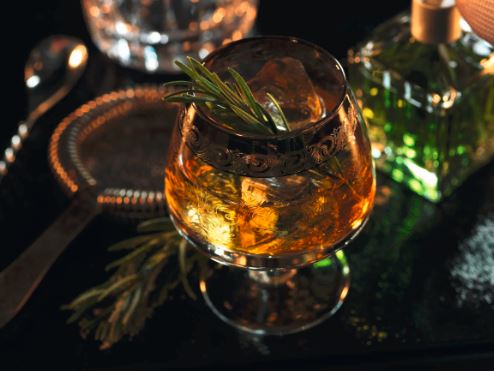 Midnight Treat
A decadent indulgent cocktail with rich notes of raisin, chocolate and leather that embodies the spirit of 19th century Paris in all its splendour. You do need to shake this over ice but it makes a huge difference to the flavour if you do. I bought a cheap plastic one.
Ingredients:
50ml Courvoisier Extravagance (World Duty Free Travel Exclusive)
10ml Benedictine DOM
5ml Chartreuse VP
Absinthe spray (optional)
Garnish:
CLEAN Rosemary sprig
Preparation method:
Stir the ingredients over ice in a mixing glass or tin. Strain over ice into a brandy balloon and garnish with a sprig of rosemary. For an added touch of decadence, spray a mist of absinthe over the cocktail. If you are feeling especially brave, you may even flame the absinthe mist as you spray.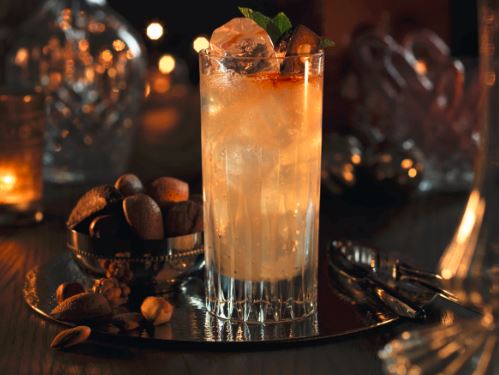 The Nutcracker
A rich yet refreshing long cocktail, with sweet vanilla, spice, hazelnut and pear notes. This is a mix-in-the-glass recipe so much easier to make.
Ingredients:
40ml Glenmorangie Dornoch (World Duty Free Travel Exclusive)
15ml Frangelico (hazelnut liqueur)
10ml Poire Williams Eau de vie (pear liqueur)
100ml Ginger Beer
Garnish:
Hazelnut chocolate
Mint sprig
Preparation method:
Pour all ingredients in a glass over ice, garnish with a mint sprig and a halved hazelnut centre chocolate.
These recipes are courtesy of World Duty Free (though I have modded/commented on them 😉 ). For more information on their products, please visit www.worlddutyfree.com