Tag Archives:
galaxy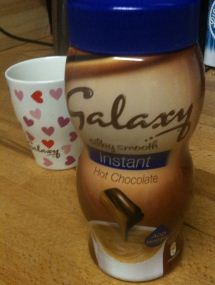 The final hot chocolate in the Galaxy range, this is the traditional hot chocolate made with water. No extras with this one, you can make a good old fashioned hot water hot chocolate. This is something I can dig – ...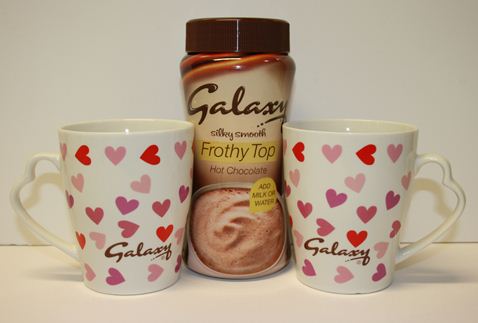 It's a lovely day to win no matter what the weather and before the week has ended we'll be giving away this lovely gift of a pair of mugs and Galaxy Frothy Top Hot Chocolate. You may remember that I ...
The holidays bring us some awesome chocolate and gifts and Galaxy has brought us some chocolate you should have popped around your house if you are a Galaxy fan. I've noticed that people who like store chocolate tend to separate themselves ...
Well, 'tis the season and all that and Galaxy have released a new drinking chocolate.  That's right – a drinking chocolate. Not a hot chocolate with added milk powder but a rich drinking chocolate. This drinking chocolate has actually been specifically ...
Much to my amusement at the way my brain works, Galaxy Bites aren't little cake bites. I'm not sure where I got the idea that these were little balls of cakey goodness but I was way off base. ...
I tried this hot chocolate after the Galaxy cup of hot chocolate.  This hot chocolate can be made either with milk, water or half and half giving you the option of a rich creamy hot chocolate, a lighter one or ...
Comments Off

on Galaxy Frothy Top Hot Chocolate Review
Hot chocolate in a convenient cup – just peel the lid back and enjoy the hot chocolaty goodness.  With a cookie, what could be more warming than a hot chocolate? This small hot chocolate is 150mL of delicious thick creamy goodness.  ...
Comments Off

on Galaxy Ultra Smooth Creamy Hot Chocolate Review