March 18, 2012
Galaxy Instant Hot Chocolate Review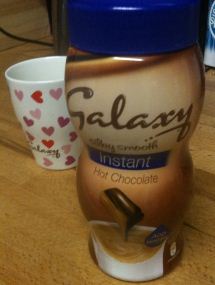 The final hot chocolate in the Galaxy range, this is the traditional hot chocolate made with water. No extras with this one, you can make a good old fashioned hot water hot chocolate. This is something I can dig – boiling the kettle and making a nice cuppa.
This instant hot chocolate from Galaxy is interesting and a little different. I think of all the instant powdered ones, I like the frothy one best. This one, while simple to make, has a slightly different flavour. There is a bit of a powdered milk flavour in the hot chocolate and this, for me, is not as nice as the frothy hot chocolate but still a nice hot cup of hot chocolate.
I did try adding some marshmallows to this – well, one. I chopped it up so it was smaller and popped it in and this is where this hot chocolate was brilliant.  With the way the powder mixed well with the hot water it meant mixing the marshmallows in made it even better.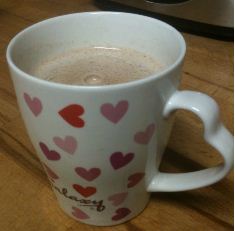 I think that if you like Galaxy chocolate, you might want to go for the frothy top or even getter, one of those ones that has the thick hot chocolate in it and zap it in the microwave. But if you want a hot chocolate you can add things to like coffee, mint leaves, marshmallows, chillies, etc. then this is the one for you.  I've already had half the jar 😉