March 14, 2012
Win Galaxy Frothy Hot Chocolate & Pair of Mugs [CLOSED]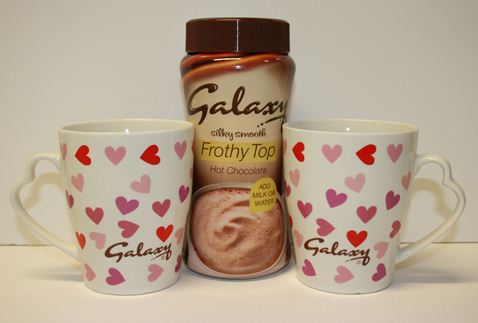 It's a lovely day to win no matter what the weather and before the week has ended we'll be giving away this lovely gift of a pair of mugs and Galaxy Frothy Top Hot Chocolate. You may remember that I reviewed this fun hot chocolate a little earlier and found it to be not at all shabby but not as rich as those ones you zap (well, duh!). I kept this one for myself and did not share with the office – that tells a story all its own (mine…)
Now you have the chance to win not only come yummy hot chocolate but the perfect mugs to go with it! Not only are these mugs absolutely brilliant, they are perfect to hold without burning your fingers thanks to the two finger grips (yes, I know it is a heart but they are also finger grips!).
To win this lovely prize shipped directly to your door so you can enjoy the deliciousness of a hot chocolate from Galaxy, I just need to know…
What would your ultimate hot chocolate break be? In a chalet in front of a fire, with friends chatting on the weekend, after work… what would your ultimate hot chocolate break be? This is a luxurious hot chocolate so I'm sure it will inspire some luxurious ideas.
Leave your comment here or on this post on our Facebook page and we'll select one winner of this fab prize.
Good luck everyone and here are those ever important rules – I want real people to win and not automated comp entry engines. Thanks to Loquax for providing help to those of us wanting to create fair ways to give stuff away.
1.One entry will be chosen at random from facebook and one entry will be chosen from blog comments that qualify.
2.The competition will run from Wednesday 14th of March 2012 to 1pm GMT Friday 14th March 2012.
3.The selection of winner will be made by the competition organiser using both entry lists and random.org alone and will not be swayed by undue influence.
4.One entry per person to this competition.
5.No cash alternative available.
6.I also reserve the right to exclude entries that I feel are inappropriate or not in the spirit of the competition.
7.Your details won't be passed onto anyone else, unless you're the winner and then I'll send it to Galaxy so they can send you your prize.
8.I reserve the right to remove entries that I believe aren't human created or are an attempt to gain an unfair advantage such as automated entries.