March 19, 2012
Hotel Chocolat Soft Caramel Egglets Review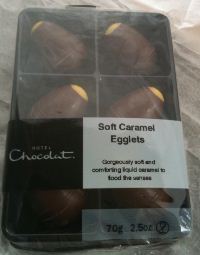 These egglets are absolutely yummy. They are something that have changed only a little over time and they are absolutely delicious.
These egglets are included in a number of different sets from eggs to boxes of chocolates to the individual trays of 6 egglets such as I have here. I actually bought these and two other types to give away at a conference and lo and behold I happened to have these left over. Oh dear I had to take them home with me.
These are milk chocolate and if there is one milk chocolate I love it is Hotel Chocolat. It is better than the dark for me (but not better than their single origin) and I'm happy to eat them… or lots of the little nibbleatron robots. The milk chocolate from Hotel Chocolat is slightly sweet but it isn't too sweet which is partly why I love it.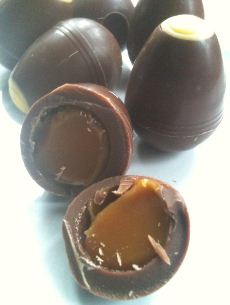 The caramel is not too sweet but it is salted caramel. I'm a little surprised that they haven't made more of the salted caramel filling and have left it off the package but for the back. Still, it is what makes these egglets yummy as the caramel isn't too sickly sweet.  The milk chocolate is a bit too thick for me, especially at the small top end of the egg but this is a small thing compared to my enjoyment of the rest.
Delicious.  Treat yourself and don't just leave them for Easter – I've been buying these all through the year even when they were marketed as for children. They make perfect eggs for having around the house to nibble – especially for parents.