March 29, 2011
Hotel Chocolat Ultimate Geek Egg – The Nibblatron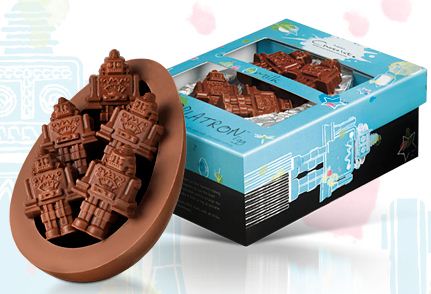 DANGER! DANGER! WILL ROBINSON! Those are the first words that came to mind when I happened across this clearly geek robot egg in the Hotel Chocolate Easter chocolate section of the website. The new line of girls & boys Easter eggs, in a smaller size, with only half a shell so mom's and dad's have to buy their own, were launched on the website. In fact, they also have a giant robot made of chocolate as well but I opted for the army of robots in the chocolate half planet (a water planet I believe given the surface).
When I saw this and requested to review it from Hotel Chocolat, I said "surely this is in the wrong section. Surely this is the ultimate *geek* egg and not *kids* egg. It's in the wrong section." Apparently it is in the right section and is the counterpoint to the egg with the fairies. Now as any parent knows, fairies are the favourite of boys and girls (hello – Peter Pan had Tinkerbell) and robots are the favourite of boys and girls. Just because there are fairies doesn't mean it is only for girls and just because it has robots doesn't mean it is just for boys. Or kids for that matter…
This is the standard Hotel Chocolat milk chocolate, meaning that while there are preservatives to ensure your chocolate stays fresher longer, it is also fairly decent quality with delicious malty milk goodness in each bite. Especially as you dismantle one of your robot soldiers with your teeth to prevent them taking over the whole planet – or was that the plan….? Better eat another chocolate robot while you ponder your dastardly plan to take over the chocolate planet….
The chocolate is nice and I really do genuinely love the Hotel Chocolat milk chocolate. Yes, it is sweet. Yet is has a hint of molasses. Yes it has added dairy products. No, the chocolate doesn't display the inherent qualities of the bean itself. There is nothing wrong with that. The milk chocolate shell is thick and will keep most youngsters busy for hours, engaged as they will be with the robot army and thick chocolate egg. Then again, parents are as likely to be involved in the chocolate robot army as kids and so this is really an egg for everyone.
I have to say that this is just a ton of fun and I am sure that anyone – young or old, boy or girl – will absolutely adore this egg! I should say – I've used the HC image for this post as mine arrived slightly foxed and so was more white than chocolaty brown. It was, nonetheless, delicious and I know I am the envy of all my geek friends 😉