March 28, 2011
Hotel Chocolat H-Box EggBox Selection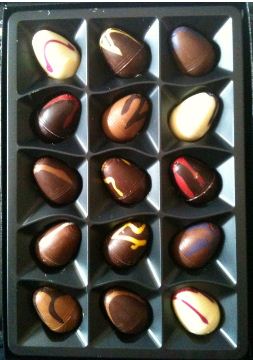 Just because you grow up doesn't mean that you stop being a little kid inside. With that in mind, when you get invited to an Easter party, dinner or other event, pop over to a Hotel Chocolat shop and grab an adult box of filled Easter eggs and bring them as a hostess gift or to share. These are absolutely grown-up chocolate Easter eggs.
This box was sent to me by the lovely Hotel Chocolat people and I have to admit that as I sliced them to photo and review, I ate them. In fact, dear readers, you're lucky I got any photos at all 🙂 That is to say, as I was cutting them open I decided to sample them and so I'll do my best to review as I scoff the other half…
The Caramel Egg – I love this one. The 50% chocolate with sea salted caramel is better than the Purist ones I tried which I think might be a bit too dark for most people. The 50% milk with the sea salt caramel is just delicious. I had a second one of these from the box and the third one is not long for this world… MINE 😉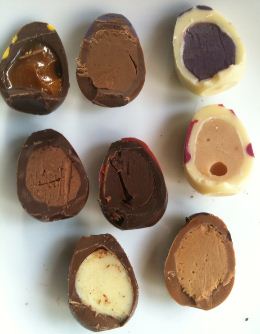 Milk Praline Egg – this is the typical Hotel Chocolat praline in a 40% milk chocolate shell. Not my personal favourite but so many people love praline I'm sure that this will be a favourite in the box.
Blueberry Egg – I did enjoy this an awful lot. While this is a white chocolate egg and therefore somewhat sweet, the intense blueberry filling is deliciously intensely blueberry. This was like a sweet blueberry yogurt without the bits.
Chocolate Brownie Egg – I shoved this right in my mouth before realising it was hazelnut praline 😀 still, it wasn't bad and with the cocoa crispies and quite edible.
Mousse au Chocolat Egg – I must admit, this dark chocolate for some reason didn't taste as good as I remember. There was a slight dry, almost chalky flavour and it seemed slightly flat., It could be that by now I've become so used to milk from all the eggs that dark was a shock but otherwise I think it is extremely edible and compared to other dark is it miles better
Strawberry Egg – even my husband, Mr Fussy-Pants liked this one! This is like the blueberry egg – white chocolate and intensely flavoured if somewhat extremely sweet. This is absolutely sure to become a favourite and I can see the second one being fought over!
Vanilla Custard Egg – Probably closest to the buttercream eggs from See's and Laura Secord and yet MILES better than either. This has a distinct vanilla flavour and so is not a buttercream and yet is lovely and thick. It's delicious and one I'm sure will be enjoyed by young and old alike.
Caramel Praline Egg – Again not a favourite of mine but a perfectly good praline with the delicious caramel milk chocolate shell from Hotel Chocolat
All in all I think you'll agree that these are delicious and well worth buying and bringing to a party – for adults only perhaps!