March 22, 2011
Jean Philippe Darcis Verve Cliquiot & Chocolate Macarons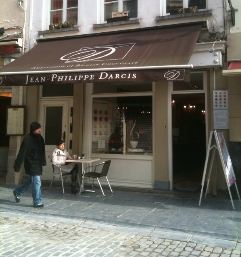 There is something about a good macaron that I find hard to find. I think I'm picky. I wasn't fussed on the Pierre Herme macarons and that's probably down to individual taste. I thought as I was in Brussles what could it hurt to investigate come of the local creations.
The macarons were in a cute counter in a chocolate chop whose truffles bore a striking resemblance to other chocolates I had been seeing around town. It looked like there was a chocolate cartel or something so I went for the macarons and hadn't seen a Verve Cliquiot macaron before and went for that and chocolate.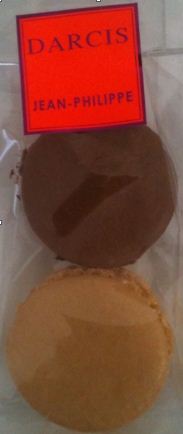 The chocolate was OK but lacklustre. I think the Pierre Herme one outshines this one but who knows which batch was fresher. It could have been that the chocolate one I had was older as the macaron itself was chewy without the crisp outer crust I am used to. The inner filling was OK but nothing to write home about (and barely deserves a blog mention really). I figured that star would be the champers one as they did charge more for it.
My first impression was of a slimy interior. I'm not sure quite what went wrong here but ewwww… the next thing I notices was that macaron casing itself was not crisp but soft and almost soggy. It did have a strong champagne taste but it did not shine by any means. It was really not a shining example of the macaron makers' art.
All in all I was disappointed but perhaps I was expecting too much. I was in the heart of the tourist area and yet slightly off the beaten path and I was there on a Saturday at the end of the say. Maybe I got an old batch, maybe I got the one bad one. I loved the effort they had taken with the presentation and the shimmering gold of the Verve Cliquiot macaron. Or maybe they just aren't up to scratch. Why not pop in if you're in the area and add your thoughts here?