March 21, 2011
Matcha Chocolat One Year Anniversary Box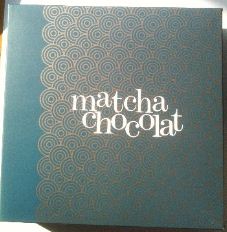 As it is now a year old, Matcha Chocolat whose tea-infused chocolates I have come to not only love but crave, have launched an expansion to their range. Moving beyond her initial passion for tea, Katie has added herbs, flowers, fruits, nuts and spices taking the art of infusion to a whole new level. OK… she's not infusing nuts into ganache but you know what I mean 🙂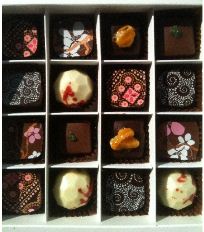 She also decided to branch out in her sales and offer these new flavours on their own individually or you can choose a selection box. So we'll have the seasonal flavours plus these new ones making this a huge range of quality chocolate to choose from. If you're just overwhelmed don't worry – each week Katie will be offering a pre-mixed selection which will be slightly different than the week before meaning you can just trust her intuition!
I received a selection box myself and as you can see it is absolutely fabulous. The chocolates are both visually appealing and tasty. But don't just trust your eyes – here are the flavours in full delicious descriptions too!

Jasmine Pearls – a dark chocolate ganache infused with those lovely jasmine tea pearls I reviewed before. These lovelies are dipped in dark chocolate and as you can see they are decorated with a white swirl motif. This is a departure from the sweet white chocolate we usually get which won a great taste award. Here the wild bean 68% Bolivian chocolate's sharp acidity and slight fruityness compliments the jasmine pearl tea infused ganache. Not as sweet but still lovely with a softening of the jasmine due to the dark chocolate ganache. If the last jasmine was too intense for you, this one will be lovely.

Pink Grapefruit – ya, I know it isn't the white chocolate one either. It's the pink and white one which makes sense but where other people might have wimped out and gone with a white chocolate with this citrus, Katie has gone for the dark chocolate ganache and bravely dipped in it a darker shade of milk chocolate. This isn't an assault on your senses but rather a gentle citrus infusion. It is mild and pleasant and isn't at all what I expected. It is hard to describe but that it is absolutely grapefruit and yet not.
Rosemary, rasin & walnut – had I not tried a production model of this I might have been as bit scared of it. Fresh rosemary, minced raisins and walnut oil seemed intimidating at first but once I knew what I was getting I wanted more. After the subtle fruits and teas this is more of a grab you by the tastebuds experience. Never a fan of fruit in my choc, the minced raisins were inoffensive to me (which is MAJOR) and the rosemary was subtle but still a potent flavour force. You get it mainly at the back of the throat. The walnut oil is a subtle enhancement and the caramelised walnut is my favourite part. It kept sticking to the paper so every time I went in for a chocolate it was there tagging along for the ride, demanding to be eaten.

Mint & green tea – a tea infusion next with the delicious flavour combination. While the straight-up matcha and milk choc is my favourite of the chocs (after jasmine of course!), I still like the combination of flavours. The fresh mint is a delightful zingy flavour with the matcha green tea a base note to the top note of mint. A wonderful play of flavours and extremely well balanced as you eat it this is a delightful chocolate.

Masala chai – always a spicy mix when I selected this by accident thinking it was the pink grapefruit I could smell clearly it was not. Those masala chai tea spices just rise up to greet your nose and tickle it and ensice you to take a bite. This is what I'd call an afternoon chocolate which just wakes you up from that half-comatose state we can all get into by 3pm and reminds you of the delight this world has to offer. Withthe sun of the Caribbean in the beans and the spices of clove, cinnamon, nutmeg, cardamom, fresh ginger, peppercorns and a base of Assam tea, this chocolate will have you alert and excited to face the rest of your day. It certainly woke me up!

Blueberry & tarragon – possibly what I saw as the most challenging chocolate, the blueberry and tarragon chocolate is made with tarragon infused cream and blueberry puree. This was the chocolate I was probably most curious and excited about as blueberries and Canada go hand in hand. I think here with the thick white chocolate shell that I found I wasn't quite as in love with this chocolate as the others. I really enjoyed the white chocolate offering with the jasmine but here with the blueberry I find I'm not quite as much in love with the offering. It is still a fantastic chocolate but my love lies with jasmine I'm afraid 🙂
All in all this anniversary selection is going to have something for everyone – something floral, something spicy, something sweet and something fruity. I think that anyone receiving this beautiful box and selection would fall in love with it and with Matcha Chocolat.