April 6, 2011
See's Candies Assorted Easter Eggs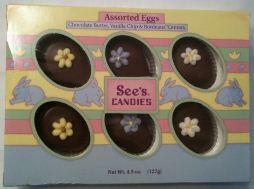 In San Francisco on my first weekend, I ran around on one day and hit a couple of chocolate shops before rushing back and working 😉 One package I got was a set of these assorted eggs. Mainly because I knew what I was in for and so decided not to subject myself to too much sugar torture 😀
This pack of See's Candies Assorted Easter Eggs included Chocolate Butter, Vanilla Chip and Bordeaux centres. I have to admit, walking into the shop was like walking into an oil and sugar factory and while there is nothing inherently wrong with that, lacking any fond childhood memories which could help to block those parts of my brain which were at that moment screaming and attempting to leave my skull through my ears, I was in some discomfort.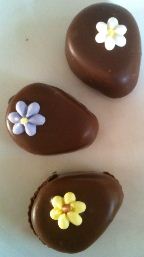 Drawn like a sugar moth to a candy flame, I went for the brightly coloured boxes filled with sugary chocolate covering a sugar centre topped with sugar decorations. Some part of my brain which was no longer attempting to leave through my ears but had instead begun to attempt to exit via my eye sockets, only to be driven back by the smell, reminded my brain that there was likely to be a lot of leftover chocolate and as such I should go small and these were perfect.
The thicker shell on these when compared to a Laura Secord Mini Secord Egg is clear and the option of milk over dark is interesting. The smell of the sugar and oil is evident from opening the packet and is guaranteed to light up the centres of addiction in the brain like a Christmas tree. These eggs have everything needed to become an addicts delight.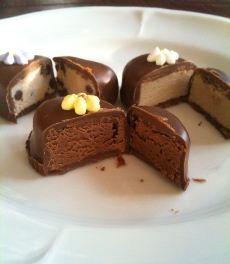 The Chocolate Butter Easter egg filling is a whipped smooth slightly peanut-y flavoured butter crème which melts in the mouth. I took a small piece and I still puckered from the sugar. It was like eating a sugar cube made with artificial chocolate flavouring. With each egg coming in at 100 calories, I took really small sample pieces.
The Vanilla Chip Easter egg was another confection which reeked of vanilla and had a slightly denser, stickier interior. The chocolate chips did seem to add something (more sugar and fat) to the mix and I think I enjoyed the small piece of this one a little more. Maybe at this point a little less artificial and chocolate and a little more sugar was just what I needed.
The Brodeaux Easter Egg (apparently "Bordeaux" is their trademark term…?) was like the vanilla chip but without the chips. Actually, it isn't – I think it is like a sugary disgusting confection that every kid is going to love and crave and have fond childhood memories of for years to come. For me, lacking in those memories, it's like I can feel my teeth and brain rotting as my liver screams for release from this mortal coil.
While these eggs are mainly sugar and fat, that is a mainstay of any Easter celebration and if that is the kind of thing that you look forward to, I'd go for it. Upgrade to Laura Secord if you can and if you don't want to go for sugary fatty excess, Hotel Chocolat do operate in the US and you're much better off with something yummy from them 😉