April 5, 2011
Scharffen Berger Filled Chocolates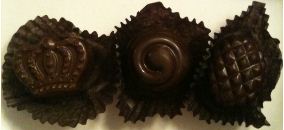 On a recent trip to San Francisco I had the opportunity to visit the Ferry Building which houses some of the greatest cheese, meat and chocolate shops in the area. While in there, I happened upon the Scharffen Berger chocolate shop, a recent acquisition by Hershey (in 2005) which is striving to create artisan bean to bar chocolate as a viable business. With the backing of Hershey they might be able to make great strides or they may remain small.
The Scharffen Berger chocolates themselves are typical shaped and filled chocolates with a ganache-esque or caramel filling (my choice). I chose champagne (the crown), coffee (the kind of pineapple one) and sea salt caramel (the swirl one). Each of these requires something different in the process of making and so I thought they were a representative sampling of the chocolate that they had to offer.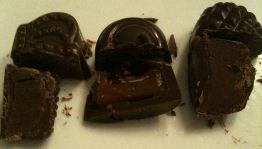 The sea salt caramel was really pleasant. The chocolate was slightly harder than I prefer, with less of that absolutely to-die-for smoothness in a Duffy bar but also the flavour of it is really good quality. I think that this sits between something like Tcho or Askinosie and something like Godiva or Neuhaus in quality of chocolate.
I moved on to the champagne with was a big crown shape. This has a slightly weird flavour to it and I wasn't clear after eating it that it was champagne as nothing stood out for me but a slight chalky flavour.
The coffee chocolate was likely second best after the caramel in distinctive flavour. There was still an odd, unfamiliar flavour to it but it had a much more distinct flavour that was a more defined sweet coffee taste.
All in all decent chocolate that I think might only be available in San Francisco in the Ferry Building.