April 4, 2011
Z Cioccolato Chocolates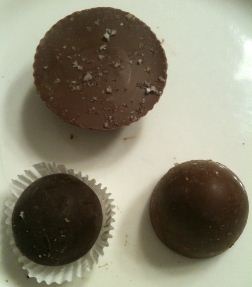 This was a stumble-upon that was on my radar but once you've been walking for the better part of a day you begin to give up on ever finding things. I came across this shop after my XOX Truffles adventure. It was full of the smell of freshly made caramel corn and fudge. The chocolate seemed kind of second to the sugar delights.
This was a shop run by passionate people no matter what the chocolate situation. They have barrels of taffy, acres of fudge (it seemed) and they insisted everyone try some fudge when they came in the shop. Sure way to get folk to buy.
I was in there for chocolate though and so I picked a well-rounded selection – 2 with fudge and 1 with caramel.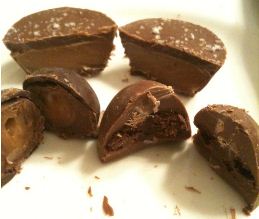 The first fudge truffle was a thinly shelled chocolate ball filled with a more liquid fudge. The dark chocolate was OK and I think it was more an excuse to chocolate coat some delicious fudge than make a chocolate 🙂 There was a very sweet fudge filling which was deliciously smooth and yummy but the chocolate was not Tcho.
The next one I tried was apparently the most popular milk chocolate dome with chocolate fudge. Again, this was more a decision around fudge than chocolate and while the milk chocolate was the typically sweet milk, this is not necessarily a bad thing as many people prefer extremely sweet milk chocolate. Look at how well See's does with their sugary confections.
The giant sea salt caramel was probably my least favourite but here we are departing from the core fudge offering and investigating the other sugar states available outside fudge. It was large and reminded me of a peanut butter cup.
All in all if you have a sweet tooth and you like fudge, dipping it in chocolate is going to be no bad thing and you're going to love these. If you prefer a higher quality of chocolate, Recchiuti is in the Ferry Building not all that far away.