April 7, 2011
Laura Secord Mini Secord Easter Eggs
"Laura Secord what a reward, isn't it time to get there…delicious chocolates…" or so the commercial jingle went. Laura Secord is one of those great Canadian stories of a woman who escaped from the enemy camp and struggled through trials and tribulations to arrive safely at the friendly camp and warned the Canadians of the movements of the Americans which she had overheard.
Whoever Laura Secord originally was, she now makes chocolates. Call it nostalgia or call it a bad memory, it seems to me that the chocolate was nicer when I was younger. More chocolaty, less waxy. And I think I liked the old-style French mint chocolate bars better too – but I digress.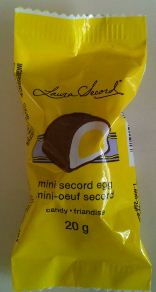 The mini Secord egg is another Canadian institution which I place a great deal of trust and faith in as being representative of the excellence that (is) used to be Canadian Chocolate. It is a small, gooey, sugary confection that beats the pants off a Cadbury cream egg. It is just head and shoulders above the competition in my mind and each Easter I spend away from Toronto is another Easter I shed a tear for having missed Secord eggs… or should I?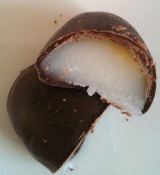 The egg is described as a "buttercream" which is apparently Canadian parlance for "sugary sweet with a hint of synthetic vanilla" and really code for "addictive as all heck". As you can see from the image, they have imagined these eggs as having a yellow "yolk" surrounded by the white as in the egg itself but as you can also see, there is hardly a hint of yolk. I blame time (and time – which wait for no one it seems) for making these taste better in my memory but it could be the size. When I was younger, the mini ones were better than the full-sized ones but those had an appeal all their own related to the lovely way you could slice a paper-thin slice and… oh wait, back to the review…
As a small hit of sugar and at only $0.85 individually, these aren't bad value. There is a very thin dark chocolate shell which I think is what has always balanced off the flavoured buttercream nicely. I noticed the blend is more grainy than I remember, less smooth and less creamy. This could be the result of changing recipes or even just the type of sugar used.
Regardless, these are still a treat though as opposed to the large ones, a small one does me just fine now 🙂