April 8, 2011
Coffee Crisp Easter Egg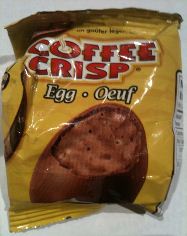 Coffee Crisp – it is the thing that sets Canadians apart from Americans. Its that chocolate bar where as Canadians we said "You know what this chocolate bar needs? A hit of caffeine!" and made it so. It is what sets us apart and is as much a part of our nation's proud heritage as Tim Hortons and the Second Cup.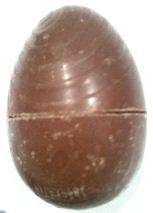 So as a Canuck, you can imagine my delight and surprise when upon visiting my local corner store I saw a display of these beauties in a box on the floor. You know, one of those stand-up cardboard display boxes. Interestingly the Turtle ones were sold out but they have plenty of Coffee Crisps left. That should have been a warning really…
So there I was… Coffee Crisp Easter egg in my hand. I had high hopes. As a Canadian, I had pinned my nation's pride on this egg. How would they handle wafers, whipped filling *and* coffee? All I had to do was try some…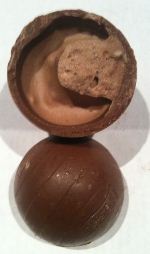 Well, as you can see that filling looks more like sick than filling. And what's worse, it doesn't taste anything like a Coffee Crisp. It is a poor substitute for my beloved Coffee Crisp (original). Shame on you Nestle – I know you are capable of much better. Next year I want to see a new one that's even better!