April 11, 2011
Ghirardelli Filled Easter Eggs Review
I'm always unsure when I buy a ton of crap errrr… chocolate… whether I should review themes in a single blog post or multiple. I was tempted to break this up but I've decided to keep it as a single due to the recent events in my offline life.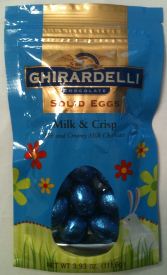 Milk & Crisp Chocolate Eggs – small just like you remember them from your Easter egg hunting days, these are the perfect size to hide around *and* they have the added benefit of being pretty much solid (as you can see by my awful hack job on cutting them). This means accidental squishes do not result in leakages and that's a plus for me on the egg hunt as who really watches where they are running? I still don't… Anyway, these are solid and so you're in for a chew and it has the typical Ghirardelli chocolate which is better than Nestle so really, every reason to buy some!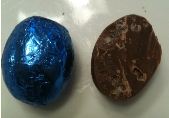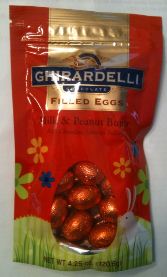 Milk & Peanut Butter – my years in the UK mean I am often chocolate and peanut butter bereft. I know, I can accidentally smash into someone eating peanut butter while eating chocolate and decry "hey, you got peanut butter all over my chocolate" but this is way easier. The filling isn't quite solid but it isn't too squidgy as you can see by the generous chocolate shell and the peanut butter is lovely and delicious with a proper peanut butter flavour and not one of oil and sugar. All in all, I love that they got some chocolate in my peanut butter 🙂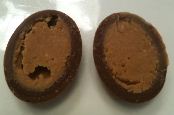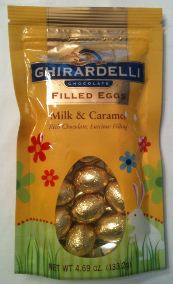 Milk & Caramel – I was possibly most critical of this in my own mind because of my love for this taste combination. I think the chocolate is lovely and the caramel is mellower than I would have expected with a molasses flavour that comes through and is nicely balanced with the chocolate. It isn't top end but it is lovely and mine… or is it?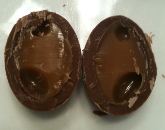 I've got an extra bag of these little darlings to give away so if you'd like to win one, just leave a comment about your fondest Easter egg hunt memory. I love hearing about all your adventures and I just love reading through the comments during a competition when I get to hear all about your adventures.
Entry is free, I'll draw a random winner April 15th, UK only, you can enter with an Easter memory comment in Facebook and/or the blog here and/or you can tweet "Easter memories of chocolate eggs are sweeter right now at the Mostly About Chocolate Blog http://bit.ly/mac-easter" so there are 3 ways to enter for a total of 3 entries per person. Random.org will be used to choose the winner. My decision final. No substitutions. It's a blog, not a company, yadda yadda yadda.
YAY! Joanne B Has WON the eggs! These aren't available here yet 🙁 but I'll be giving away Soma chocolate soon!