December 20, 2010
Galaxy Ultra Smooth Creamy Hot Chocolate Review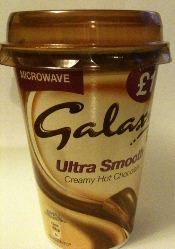 Hot chocolate in a convenient cup – just peel the lid back and enjoy the hot chocolaty goodness.  With a cookie, what could be more warming than a hot chocolate?
This small hot chocolate is 150mL of delicious thick creamy goodness.  Not quite a high quality Paul A Young or Soma hot chocolate but just a bit of inexpensive fun.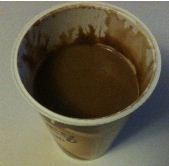 As you can see there is only 150mL in there so don't be surprised when you peel the lid off and find there's only part a cup in there.  It's also made from skim milk and at 179 calories I'm thinking they could have added another 50mL without going too crazy on the calories but giving us more hot choc.
This is a rapid heat hot chocolate – in about 1 min (stopping after 30sec to stir) you've got yourself a cup of warm chocolate goodness.