November 10, 2010
Soma Mayan Hot Chocolate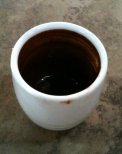 I decided on my revisit to Soma, after an incredible visit and filming session, to try their hot chocolate.  They have a classic and a Mayan version so, of course, I chose the Mayan version.
The first thing I noticed was that it smelled delightful and was super thick.  Anyone could tell this was going to be a delicious hot chocolate before it even hit your lips.
The hot chocolate was rich but the warmth of the spices didn't hit straight away.  The heat of the chilli built over time but the slightly sweet dark chocolate that had been used was delicious. The chocolate was Peruvian chocolate already setting this hot chocolate apart from any other you are likely to find.  The spices included chilli (of course), vanilla (the real stuff), ginger, orange peel, and various spices.
This hot chocolate is an experience that should not be missed.  I really enjoyed my second visit to Soma and really think this shop is a place I can fully and whole heartedly recommend.  Pop in for a hot one and leave with a warm tummy and an empty wallet with a bulging bag of microbatch chocolate!