November 9, 2010
Dahso European Chocolates from Toronto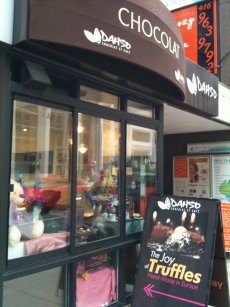 I'm originally from Toronto and so when I visit, I like to discover new chocolate places.  I find most use Callebaut, buy pre-made chocolates from the same chocolate supplier in Belgium and are generally unoriginal.  I found only Soma Chocolates, Stubbe Chocolat, Xococava and certain others doing anything original.
I found Dahaso Chocolat et Cafe on St. Clair Ave W just ever so slightly west of Yonge St, south of Xococava. Instead of yet another Simone Marie or other generic Belgian chocolate shop, I found a delightful cafe with some of the most delicious chocolates.  I cannot believe these are mass-market because they are so delicious.  I know they are not made on the premises but I don't believe they are mass-market Callebaut.
Never before have I had such a delightful ginger chocolate. The ginger was delicate, the chocolate delicious and as the flavours combined in my mouth they blended perfectly. The ginger ganache was obviously created by using fresh ginger as the ganache gives a hint of ginger heat without overwhelming the palette.  You have to try this chocolate.  It was really surprising to me.
The dark chocolate was distinctive and without the waxy edge I'm used to with Callebaut chocolate. There is a sweetness here that, without being overwhelming, will make it a more popular chocolate for those not as used to dark chocolates.
There are a ton of chocolates here and they are delicious. I bought quite a few and shared them around but chocolates aren't the only thing that this cafe does.  They also do food and pastries and coffee and tea and Belgian waffles.
When I visited Belgium, I had WAFFLES.  These were confections upon which were piled delicious toppings. In Toronto generally waffles are things made from pancake batter and cooked up but not at Dahso.
At Dahso the visitor can expect a lovely proper Belgian waffle that has a caramelised outer crunchy layer with a proper cooked interior of a mixture that holds its form in the presence of maple syrup, whipped cream or chocolate sauce.  In fact, next time I'm in Toronto I'm making time for one with whipped cream and chocolate sauce.  One to eat in please, with a hot chocolate!
Visit Dahso Chocolat in Toronto at 15 St Clair Avenue West – call ahead on 416-922-3000