November 8, 2010
Live on Chocolate Raw Chocolate by Stacey Burgess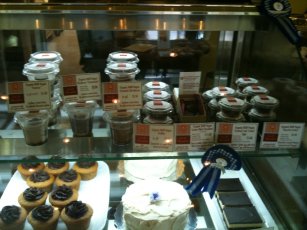 I am not a raw chocolate fan and anyone who reads this blog knows I don't like it.  It never works for me and I really feel strongly that chocolate needs roasting to bring the flavour our and to its fullest flavour.  So it was with trepidation that I visited the "Live on Chocolate" section at LPK's Kitchens in Toronto.
Interestingly, Stacey understands about the difficulty in sourcing good raw chocolate and she has spent considerable time trying to not only get the best raw chocolate but also pair it with additional flavours to ensure she is making something both as tasty as possible and as healthy as possible.  Healthy chocolate?  Surely not…
Blue green algae in chocolate? Surely not and yet I found myself in this shop eating a piece of chocolate on a hot day called a crème egg which is actually an agave syrup sweetened egg yolk centred raw chocolate egg with a blue green algae swirl.  Not extremely sweet (as it could have gone with the agave syrup but it definitely has a sweet flavour with the harsh edge of raw chocolate I'm not as happy with.  But wow – very innovative and interesting.  Never thought I'd ever eat algae and be happy about it!
The original truffle is more like a brownie ball than a truffle with a slightly coconut flavour to the ganache and a very sharp flavour which is more acidic and less fruity than I usually tend to appreciate.  I think this is actually the stronger of the two chocolates and I can see with something like this how people can convert from regular chocolate to raw.  I don't think I would have considered it possible before this truffle to convert from "real" chocolates to raw but this has certainly opened my eyes.
You can buy this raw chocolate in Toronto from:
LPK's Cullinary Groove
718 Queen Street East
416-461-6440