May 5, 2010
Roar Raw 81% Chocolate Bar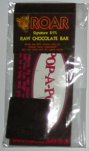 This "raw" chocolate smells the same, looks the same and seems the same as other chocolate.  It's hard to understand what is so different about it.
It's like getting the Choc Chick Kit made up for you by someone else.  I wasn't a giant fan but it was delicious chocolate and I really enjoyed the choc chick kit and so I gave this a try.  Part of the reason I didn't like the kit was I couldn't get the agave syrup to mix right but that was my bad – not a fault with the kit.
So, how is this stuff made?  It is made with 81% cacao solids from the pure unroasted cacao bean and sweetened with the nectar of the agave cactus – a low GI fructose based fruit sugar – and that's it.
Ewwww…  I like my beans roasted.  Anyway, to the tasting.
The first impression is of sweetness.  Then of a fruitiness of chocolate and then more sweet.  I think it is the agave syrup I'm not enjoying.  Still it is a unique, different chocolate and I think that a lot of people looking for a different chocolate experience will enjoy it.  Me, I don't.