May 3, 2010
Chocacao Chocolate with ACTICOA chocolate from Belgium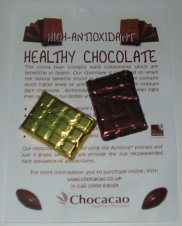 This chocolate comes with a recommended daily dosage limit based around the size of the baby bars.  One of these a day will keep the doctor away or something like that.  It will, apparently, boost your immune system, improve your skin, keep you feeling young and fit and more.  I'm not so such but it is chocolate so YUM!
Apparently the antioxidants, or more specifically according to Chocacao, the flavanols, are the components which make raw cocoa such a healthy option – in fact they say it is the highest-known antioxidant available. Unfortunately, heating – an inevitable part of production – destroys over 70% of these antioxidants in standard chocolate (apparently…).
Gold Foil Milk Chocolate Bar – This chocolate is quite different from chocolate I have tried before.  It is sweet and not as fully flavoured as others but still nice.  I don't think I could take more than the recommended 5g waffle bar per day of this sweet milk chocolate.
Brown Foil Bar – This bitter dark chocolate is different from other chocolates.  The tiny bar shape is cute but the chocolate itself is drying in the mouth.  There is a fruitiness at the end but your daily allowance is more than enough.
In the end, this is good but not great chocolate but given that I only tried a bit, I can't say if the health claims are true.  It might be an interesting experiment to try!