December 14, 2015
New 2015 Haagen-Dazs Ice Cream Christmas Cake & WIN Some Haagen-Dazs!
It's that time of the year again – when we remember the MOON cake, the CLOUD cake and the VILLAGE cake and we wonder what Haagen-Dazs has in store for us this year. Well, the keen among you will already know that this year's delight is the extremely YUMMY advent calendar cake.
Häagen-Dazs has been making ice cream like no other since 1961. The founder Ruben Mattus' vision was to make the best ice cream in the world using high quality, carefully selected ingredients. In recent years, Häagen-Dazs has been celebrating their tradition of craftsmanship and ice cream expertise by  delighting the world  with  exquisite, limited edition Christmas cakes, each one of which is masterfully crafted by the chef pâtissier in Häagen-Dazs' Paris flagship store on the Champs-Élysées. Yes, your cake will come directly from Paris without having to pay for a Eurostar ticket!
Now in its 8th year, Häagen-Dazs is proud to collaborate with one of the greatest interior designers of our time, Paola Navone, to ensure that 2015's Christmas cake goes down in memory as one of the most stunning examples of gastronomic design ever seen.
Navone, who is originally from Turin, Italy, but now resides in Paris, is famous around the world for her avant-garde style and attention to nuances of colour and texture. It is for this reason that the partnership with Häagen-Dazs, who are known for their deliciously smooth ice cream and quality ingredients, is so well-matched.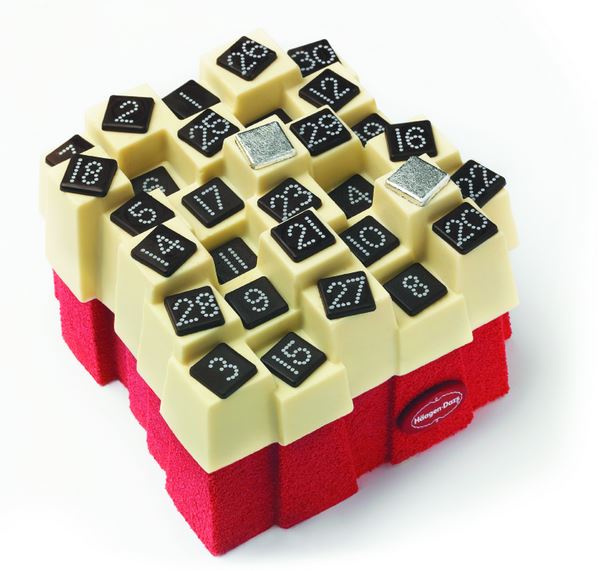 When she proposed her design for an edible advent calendar, she and the Häagen-Dazs pâtissiers had to overcome quite the technical challenge: 31 pillars of ice cream to represent the 31 days from 1st December to New Year's Eve. What's more, in order to make it something truly special they agreed on a sumptuous white chocolate coating, velvety base and ice cream hidden inside each pillar. The two pillars that are designed to represent Christmas Eve and New Year's Eve stand above the rest and are covered in either edible gold or edible silver leaf.
The Häagen-Dazs Advent Calendar by Paola Navone comes in two flavours: Dark Chocolate & Almond and Macadamia Nut Brittle & Dulce de Leche. Just 35 cakes will be available in the UK so really – if you want to get my favourite (dark chocolate & almond) you need to be quick.
Not up for a whole cake but want some FREE ICE CREAM? Well, Häagen-Dazs have kindly offered to send FIVE LUCKY PEOPLE £10 gift certificates for Häagen-Dazs ice cream (any flavour – YUM!). Want to win some? Well just check out RaffleCopter below and cross your fingers!
The rules:
1.The competition will finish as per Rafflecoptor widget on Wednesday 23rd December 2015 at midnight.
2.The selection of winner will be selected by Rafflecopter and verified by hand to ensure entry complies.
3.Only available to UK addresses.
4.No cash alternative available.
5.I reserve the right to exclude entries that I feel are inappropriate (for example, change the tweet, share to locked account I cannot verify or do not leave the minimum 10 words) or are not in the spirit of the competition.
6.Your details will be passed on to Haagen-Dazs' PR company so they can send you the prize.
7.I reserve the right to remove entries that I believe aren't human created or are an attempt to gain an unfair advantage such as automated entries.
8.You do not need to complete all three actions to enter but you must use the widget and leave your email so I can contact you if you win.