December 30, 2013
Haagen-dazs Cloud Ice Cream Patisserie Cake – WIN ONE!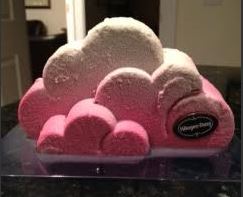 Last year Haagen-Dazs created a MOON CAKE which was so wonderfully complex that it required instructions. This year, they have created a thing of beauty which is just full of yum (and all sorts of hidden delights).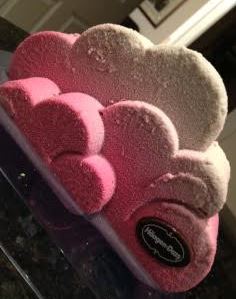 The cloud cake was created by Front for Haagen-Dazs and has a core of their new Marc de Champagne ice cream with their delightful chocolate ice cream around this central core. The cloud shape is absolutely gorgeous to look at with a beautiful multi-cloud effect which has been flocked white with a hint of sunset pink at the bottom. The image is absolutely beautiful. The hidden surprise in the base of a chocolate crackle was extra special as we got to experience so many different textures in a single bite. Inspired by snow clouds from the designers homeland, this festive, money can't buy dessert is the best way to indulge in style this Christmas.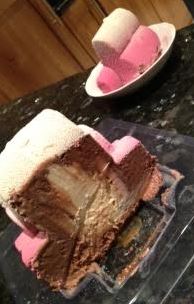 I brought this to a dinner party I was attending with friends and we cut in to it to reveal the layers. Not only did they love and admire the beauty of the object as a work of art but they absolutely marvelled at the layers inside the cake. The vanilla core is actually the Marc de Champagne ice cream so everyone got a bit the different layers. It says it serves 4 – 6 and I can imagine it being absolutely perfect that way. There were 4 of us and there was tons left over – more than 2 people in my opinion but I was already full from dinner 😉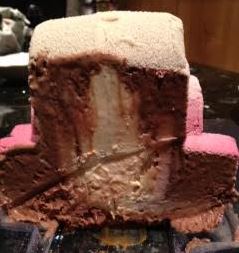 Overall this piece of gorgeous deliciousness is just that – yummy and beautiful. It is visually stunning along with being delicious to eat. The plastic case protects it perfectly and mine was delivered in perfect condition. It is the perfect stunning dessert centrepiece if you want to impress or if you just want effortless delicious dessert.
The exclusive, money can't buy Cloud cakes are up for grabs to win from the Häagen-Dazs Facebook profile from 2nd December until 4th January 2014. For further information and be in with a chance of winning, head over to www.facebook.com/HaagenDazs